Zach Galifianakis Describes Watching 'Bully Of The World' Trump's Discomfort At WHCD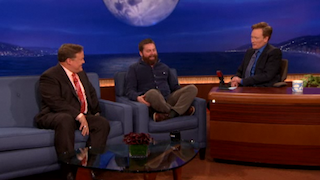 Anyone who's watched the hilarious web series Between Two Ferns knows that Zach Galifianakis has a special love for the comedy of discomfort. It shouldn't be any surprise then that his favorite part of attending the White House Correspondents' Dinner was sitting near Donald Trump and watching the man's growing discomfort as every joke seemed to focus on him. Galifianakis described the pleasure of this rare experience last night to Conan O'Brien.
Galifianakis was sitting at a table with Mad Men star Jon Hamm who previously told O'Brien that they had "the best seat in the house" for watching Trump's humiliation. This is how Galifianakis described the night:
"Donald Trump was sitting nearby. Everybody was laughing at Donald Trump and it was the most beautiful thing in the world. To have the bully of the world or whatever – it was fantastic. It was really great. I wanted to go up to him and go, 'Didn't you think any of that was funny?' But you don't want to engage with somebody that's so grotesque."
Ouch. Of course, Trump's been playing a joke on the entire country for the past month or so so we really can't feel too bad for him.
Another high point of the typically loopy interview was a supercut O'Brien's staff had completed of different TV host's attempting (and failing) to pronounce Galifianakis' name.
(h/t HuffPo)
Check out the segment from TBS below. The Trump talk starts at the nine minute mark. The name talk is around the second minute.
Have a tip we should know? tips@mediaite.com