Zimmerman Attorney Lashes Out At Prosecution For Introducing Child Abuse Charge: 'This Was A Trick'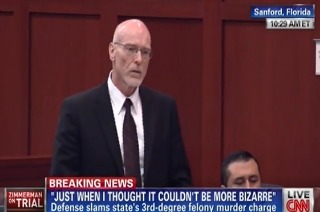 Don West, attorney for George Zimmerman defending him against charges of second degree murder for the 2012 killing of Trayvon Martin, lashed out at the prosecution for introducing new charges to the jury including third degree murder based on child abuse. West objected to the introduction of this charge without allowing the defense proper time to prepare. He called it an "outrage" and asked if the judge understood that the prosecution was trying to "trick" the court.

"This is outrageous," West said. He asked Judge Debra Nelson to recess the court for a number of hours in order to allow the defense to prepare for the change in charges the jury will be allowed to consider.
RELATED: BREAKING: Zimmerman Judge Rules Prosecution Can Include Manslaughter Charges Over Defense's Objections
"It's just hard for me to imagine that the court could take this seriously," he noted, observing that the court had not been provided sufficient time to prepare for this change in charges either. Nelson dismissed this objection saying that the late introduction of requested materials has been from both the prosecution and the defense has been a regular feature of this case.
West protested again that this instruction was emailed to him only this morning, but it was obvious that the state had been preparing the background to support the additional charges for some time.
"Really?" he asked. West indicated that Angela Corey, attorney in Florida's Fourth Judicial Circuit Court who presented the initial second degree murder charge against Zimmerman, apparently "approves" of the state's maneuver.
"It's not fair to me, it's not fair to Mr. Zimmerman, or Mr. O'Mara, or the court for this to happen like this right now," West said.
Nelson explained that Florida law allows for the introduction of lesser charges at the time of jury instruction as long as the evidence presented during proceedings supports the charge. She allowed the defense time, though not "hours" to prepare a counter argument.
West protested that his volunteers and interns were ill-equipped to rebut this charge. "Judge, this was a trick," he declared. "Doesn't the court understand this was a trick by the state?"
UPDATE: Upon consideration, Judge Nelson decided not to allow the jury to consider a charge of third degree murder by child abuse.
Watch the clip below via CNN:
> >Follow Noah Rothman (@NoahCRothman) on Twitter
Have a tip we should know? tips@mediaite.com