Zimmerman Attorney Mark O'Mara Blasts 'PR Campaign' That 'Victimized' Defendant As 'Racist' On CNN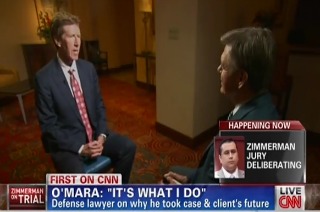 In a wide-ranging interview, Mark O'Mara, an attorney representing George Zimmerman, sat down with CNN to discuss how he approached formulating and arguing the defense of the man accused of murdering Trayvon Martin in 2012. He accused the state of considering politics over the facts of the case in charging Zimmerman, dismissed the "PR campaign" designed to paint his client as racist, and asserted that those who see this case as a "civil rights issue" are misguided.

CNN reporter Martin Savidge sat down with O'Mara and explained to him the misperceptions which he was left with before he took the case. O'Mara explained that he thought that his eventual client would be much larger and more aggressive than he was, "because that's the picture that I saw."
"I walked into that jail cell and one of the most amazing sights to me was this small, young, respectful, quiet, scared individual half – literally – half the size that I thought he would be," O'Mara said.
"Was it a concern for you that he might have been a racist?" Savidge asked.
O'Mara said that it was at first, but his impression changed after meeting Zimmerman. O'Mara said that it is his opinion that most people who believe the defendant is a racist formed that opinion in the immediate wake of the crime when the media coverage of the case was dominated by two images – one of a young Martin and the other of Zimmerman's years-old mug shot.
RELATED: Fox News Contributor Mark Fuhrman Thinks Imaginary Racial Violence Is 'Pathetic'
"It was a wonderfully created and crafted public relations campaign by the people who are assisting the Martin family," O'Mara said. He named Martin family attorney Ben Crump as being responsible for creating this misleading PR campaign and said that he should admit to that.
"Do you think that George Zimmerman would have even been charged had Ben Crump not been pulled into this?" Savidge asked.
"No," O'Mara replied flatly. "I think that it was a made up story for purposes that had nothing to do with George Zimmerman and that they victimized him."
O'Mara said that there was a concerted effort to "smear" Zimmerman as a racist and a murderer "when he wasn't." He added that the state should have taken the charges to a grand jury, but they decided to hold a press conference and announce the charges instead.
"How much of this was politics," the CNN reporter asked.
O'Mara did not respond directly, but noted that the more one focuses on the political angle, the more the case "makes sense."
Finally, Savidge asked if there was a civil rights element to this case and that some see the case as a "cause." O'Mara said he would sympathize with those who say that the case is a civil rights issue if it were one. "Get your crosshairs off George Zimmerman, and I will join you," O'Mara asserted.
Watch the clip below via CNN:
> >Follow Noah Rothman (@NoahCRothman) on Twitter
Have a tip we should know? tips@mediaite.com