Zimmerman Attorneys React To Verdict: 'It Was A Little Bit David And Goliath, But We Won'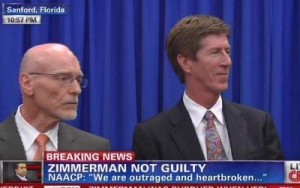 Following the jury's not guilty verdict Saturday night, George Zimmerman attorneys Mark O'Mara and Don West held a press conference to react to the ruling and to take questions from reporters.
O'Mara opened reading a thank you letter to local authorities involved in the case, and thanked the jury for their patience and interest in the case. He said that they are "ecstatic" with the results, and expressed his hope that people would accept the jury's judgement. West was more blunt, opening his remarks by saying, "I think the prosecution of George Zimmerman was disgraceful."
He added, "I'm thrilled that this jury kept this tragedy from being a travesty," but found it "sad" that "it took this long… to finally get justice." West brushed off a question from a reporter about his personal dealings in the case, while briefly, bizarrely insisting that his knock-knock joke was indeed funny.
O'Mara took questions about Zimmerman's state of mind and whether the case was a "fair fight" for them. O'Mara offered an apology to every single public defender in the state because of how his team was treated by the prosecution attorneys, before addressing the fairness question.
"It was a fight that we had to fight. They outfunded us, they made it extraordinarily difficult… Was it fair? You know, it was a little bit David and Goliath, but we won."
Watch a clip of the press conference below, courtesy of CNN:
—–
Follow Josh Feldman on Twitter: @feldmaniac
Have a tip we should know? tips@mediaite.com
Josh Feldman - Senior Editor