Zimmerman Attorneys Reveal George Zimmerman Is Not In Florida, And Much More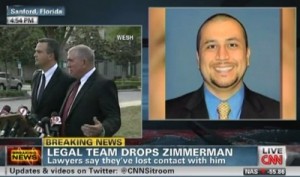 After calling a press conference announcing they were withdrawing as Trayvon Martin shooter George Zimmerman's counsel, attorneys Craig Sonner and Hal Uhrig took  questions from the media. Among the revelations at that bombshell press conference called is the fact that Zimmerman is still in the U.S., but not in Florida. Uhrig told reporters who were looking for Zimmerman like an "Easter egg hunt" to "stop looking in Florida, look much further away."
In other comments, Sonner and Uhrig expressed confidence that, if asked to, George Zimmerman would turn himself in, but they also made it clear that, even as withdrawn counsel, they are still staunch advocates for George Zimmerman.
The news that Zimmerman has cut off contact with his attorneys could force Special Prosecutor Angela Corey to make a quicker decision on whether or not to charge Zimmerman. As CNN's Jeffrey Toobin slangily pointed out, without attorneys to assure his surrender, Zimmerman could soon be "in the wind."
Other significant revelations from that press conference include:
Both attorneys repeatedly expressed concern for Zimmerman's physical and mental well-being. "From information made available to us, (Zimmerman) is not doing well emotionally, probably suffering from post traumatic stress syndrome, and we understand from others that he may have lost a lot of weight," Uhrig said.
Uhrig told reporters that "We have a pretty good idea of where he is although we didn't want to know the exact location," adding, "We didn't want to know the exact location."
Also from Uhrig: "We know his phone number. we know whenever that we call it, that phone number goes to voice mail.
"We know that's the phone number by which he contacted the prosecutor's office, and that's the number by which they contacted him back." (This could give law enforcement the ability to track Zimmerman, should he go "in the wind.")
According to the attorneys, donations to TheRealGeorgeZimmerman.com are "going to George," but they couldn't confirm it was going to the account they had set up with Zimmerman's father.
The attorneys have never met George Zimmerman in person. "It's all been through phone calls and meetings with family members," said Sonner.
Zimmerman has not left the country. "Because I'm still concerned about his safety," Uhrig said, I'm not going to get into detail. He's in the United States."
Zimmerman has never paid his attorneys. "He contacted me by phone," Sonner said, "and the initial agreement was that I would handle the case pro bono up until charges were filed."
Their last communication with Zimmerman was "Sunday, and I believe it was a text message."
In a hopefully accidental bit of unfortunate wording, Uhrig tried to explain why it would be difficult for Zimmerman to get counseling for post-traumatic stress by saying "George can't go down to the 7-Eleven and buy a Diet Coke." It was at a 7-Eleven store that Trayvon Martin purchased the Skittles and iced tea that he was carrying when Zimmerman shot him.
Here's the clip, from CNN:
Have a tip we should know? tips@mediaite.com