Zimmerman Juror Speaks Out, Tells ABC: He 'Got Away With Murder,' 'I Let Down' Trayvon's Parents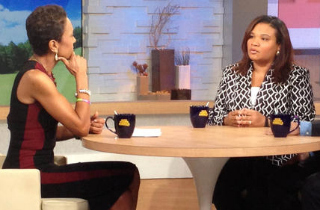 As we reported earlier, George Zimmerman trial juror B29 sat down for an interview with ABC's Robin Roberts, airing in several parts Thursday night. According to early reports, that juror — known as Maddy — told ABC that she believes the defendant "got away with murder" but the evidence simply did not exist to convict him.
"You can't put the man in jail even though in our hearts we felt he was guilty," Maddy, the lone minority among the jurors, told Roberts. "But we had to grab our hearts and put it aside and look at the evidence."
Maddy also told Roberts that, despite the prosecution's claims, she does not believe race was a major factor in the trial. Instead, she said, Zimmerman's actions themselves were enough to condemn. "George Zimmerman got away with murder, but you can't get away from God," she said. "And at the end of the day, he's going to have a lot of questions and answers he has to deal with, [but] the law couldn't prove it."
The juror claimed that she favored convicting Zimmerman of second-degree murder when deliberations began, but as the process wore on, she realized there wasn't enough evidence to put the defendant in jail or push harder to "give them a hung jury." She explained that she felt "confused" because Zimmerman clearly killed 17-year-old Trayvon Martin, but "as the law was read to me, if you have no proof that he killed him intentionally, you can't say he's guilty."
"The truth is that there was nothing we could do about it," she added.
When asked whether the case should have ever gone to trial, Maddy apparently said "I don't think so," adding that she felt the whole ordeal was a "publicity stunt."
Following the trial's conclusion, Maddy explained that she's had trouble coming to terms with her final decision to acquit Zimmerman. She reportedly told Roberts that she wants to apologize to Martin's family because she feels "like I let them down."
"It's hard for me to sleep, it's hard for me to eat because I feel I was forcefully included in Trayvon Martin's death," she said. "And as I carry him on my back, I'm hurting as much Trayvon's Martin's mother because there's no way that any mother should feel that pain."
The interview will first air in snippets tonight on ABC World News and Nightline. Friday's broadcast of Good Morning America will feature the interview in full.
— —
>> Follow Andrew Kirell (@AndrewKirell) on Twitter
Have a tip we should know? tips@mediaite.com