Zimmerman Speaks: Judge Overrules Defense Objections, Grills Defendant On Whether He Wants To Testify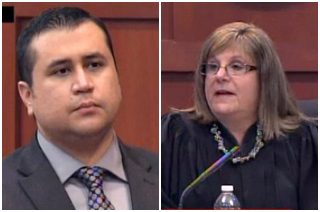 Judge Debra Nelson directly asked defendant George Zimmerman if he had made a decision as to whether to testify in his trial, overruling the continual objections of his defense attorneys in a heated exchange Wednesday afternoon.
"Have you made a decision as to whether or not you want to testify in this case?" Judge Nelson asked Zimmerman after reminding him of his rights both to remain silent and speak on his behalf.
After two objections from defense attorney Don West, Nelson said rather testily, "Overruled. The Court is entitled to inquire if Mr. Zimmerman's determination as to whether or not he wants to testify."
"I assume it would depend on how long the recesses are, your Honor," Zimmerman said, in one of the only moments he has spoken at his own trial. "At the end of the day…"
"If your attorneys have finished with two witnesses before the end of the day, do you think you would know then whether or not you want to testify?" Nelson said.
"Speaking on Mr. Zimmerman's behalf—" West tried.
"I am asking your clients questions," Nelson said, and when West again tried to object, Nelson sounded exasperated. "Your objection is overruled." She finished by telling Zimmerman, "I will give you more time to discuss this with your attorneys."
Judge Nelson has been showing decreasing patience with the arguments of the defense attorneys since leaving the courtroom last night while the defense was still speaking. This morning, she handed down two rulings against the defense, one refusing to allow Trayvon Martin's text messages as evidence, another prohibiting the airing of animation showing Zimmerman's version of the struggle resulting in Martin's death.
Watch the exchange below, via Headline News:

UPDATE:
George Zimmerman Makes His Decision Below:
—
>> Follow Evan McMurry (@evanmcmurry) on Twitter
Have a tip we should know? tips@mediaite.com