Zimmerman Trial's County Police: 'There Is No Tension' Here, We Will 'Continue To Act Peacefully'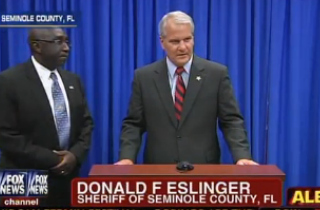 "There is no tension in Seminole County," sheriff Donald F. Eslinger said in a press conference Friday afternoon, addressing concerns about a potentially uproarious reaction to the upcoming verdict in George Zimmerman's second-degree murder trial.
Police Chief Cecil Smith and Eslinger both attempted to quell any fears that violence could result from the verdict in the highly contentious case involving the 2012 shooting of Trayvon Martin, emphasizing the preparedness of their community as well as its record of peaceful behavior.
"This jury has heard from the witnesses," Eslinger said, "they have viewed evidence and they have learned the facts," emphasizing that he believes the rule of law has been applied to the fullest extent in this case.
"While this case has brought a great deal of emotion, there is no tension in Seminole County," Eslinger asserted. "Let me repeat that. I cannot speak for any other jurisdiction but I have to tell you, we recognize that this case has stirred up a great deal of emotion, but we're not seeing tension here in Seminole County. There's no party involved in this case who wants to see any violence. And we have every expectation upon the announcement of this verdict, that our community and its visitors will continue to act peacefully."
He concluded: "We will not tolerate anyone who uses this verdict as an excuse to violate the law."
Chief Smith took a similar tone, noting that an arrest and a trial have been occurred, fulfilling the desires of the protestors who descended upon Sanford, Fl., 16 months ago following news of Martin's death.
"As we await this verdict, we would like to remind everyone that the city of Sanford has been a peaceful location since that time 17 months ago," he said, "and it remains a peaceful location."
He concluded by suggesting the city can use this trial as an opportunity to come together: "We're not sure what the verdict is going bring out, but, at the same time, it's a great opportunity for evolution within the Sanford community, and showing how we as a community can involve or evolve to do better and be better. to ensure that we have an opportunity to speak our peace, peacefully. To come together, peacefully."
Watch below, via Fox:
— —
>> Follow Andrew Kirell (@AndrewKirell) on Twitter
Have a tip we should know? tips@mediaite.com