Zimmerman's Brother Blasts Media For 'Putting Its Own Spin' On Trial 'Narrative' In Courtroom Press Conference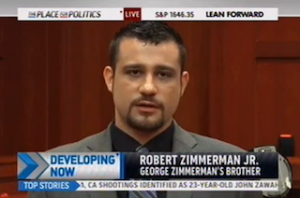 During a recess in the jury selection process that began today for the George Zimmerman murder trial, the defendant's brother Robert Zimmerman, Jr. stood up before reporters for an impromptu press conference. Zimmerman used his time in front of the cameras to both express his family's faith in the American justice system and castigate the media for what he views as a bias against his brother.
"We are very confident in the outcome of the case," Zimmerman said, speaking for his family, "and very confident that the state will not be able to meet its burden." He noted that the prosecution has to prove both that it was murder that took place and that George Zimmerman could not have acted in self-defense. Referencing his brother's "exclusive" interview with Sean Hannity, Robert suggested that George has "already taken the stand" and demonstrated his innocence.
One reporter confronted Zimmerman about the "racist" tweets he has sent out from his personal Twitter account that could be "fueling the fire" in terms of politicizing the trial. "I think it's important to a lot of people who support the family that they have a front row seat," Zimmerman said. "They don't trust the media and I think rightfully so. They have learned that the media is very good at putting their own spin on what they want the narrative to be."
Defending his right to counter the media "narrative" with his Twitter account, Zimmerman said, "I'm not employed by NBC, CBS, CNN so I don't have editors and I don't have bosses so I just try to be as honest as I can." He did say that after "the jury is actually selected" he "will not be tweeting any more."
Robert Zimmerman, Jr. has been a prominent spokesperson for his brother since the alleged murder first occurred early last year, appearing on CNN with Piers Morgan several times, most recently to defend his controversial tweets in March.
Watch video below, via MSNBC:
—
>> Follow Matt Wilstein (@TheMattWilstein) on Twitter
Have a tip we should know? tips@mediaite.com