Zimmerman's Brother On Fox: Apologizes For 'Racist' Tweet, Doesn't Know If He Hurt Brother's Image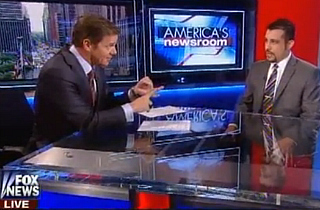 Appearing on Fox's America's Newsroom this morning, George Zimmerman's brother Robert Jr. evaluated his sibling's chances in court and gave his thoughts on whether the racially-charged tweets that got him in hot water several months ago helped or harmed George's legal odds.
Regarding his brother's second-degree murder charge in the 2011 death of Trayvon Martin, Zimmerman said "This is an improper charge, a charge that should have never happened." He added that the prosecution will have to prove that George murdered Martin and could not have possibly acted in self-defense.
Host Bill Hemmer then brought up Robert's tweet from March comparing similar photographs of a black teenager arrested for the murder of an infant and Trayvon Martin, with the caption: "A picture speaks a thousand words."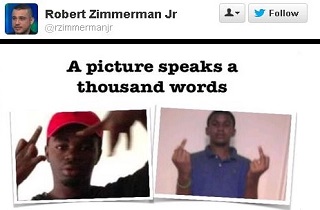 "Do you regret what you did back in March on your twitter account?" Hemmer asked. "That seemed to suggest a hint of racism."
"I don't know that it's racism," Zimmerman replied. "I think I had to learn how to use Twitter in a very public sphere. I made a mistake, I apologize for it. And I think that I'm not going to be tweeting, obviously, once the jury is impaneled because I think it's inappropriate."
"Do you think you hurt your brother at all?" Hemmer followed up.
"Hard to tell. I don't think so," the brother replied. "This is not about the defendant's brother. This is about two lives that intersected."
Watch the full interview below, via Fox:
— —
>> Follow Andrew Kirell (@AndrewKirell) on Twitter
Have a tip we should know? tips@mediaite.com