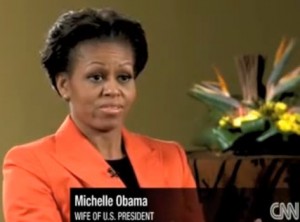 From time to time, our readers will challenge us to cover a story they think we've missed, so when one such reader alerted us that First Lady Michelle Obama thanked "CNN and the rest of the mainstream media for all its support and kindness," we got right on the case. Sure enough, Real Clear Politics had the goods, under the headline Michelle Obama: "Fortunately, We Have Help From The Media."
Aha! Proof that the in-the-tank lamestream media is in the tank, right? Not so much.

Our reader can be forgiven for being taken in by RCP's misleading headline, and their matching introductory paragraph:
In an interview with CNN, First Lady Michelle Obama thanks the media for their "support" and "kindness."
Here's what she actually said:

Transcript: (via RCP)
CNN reporter: "How's the family ready for this [the election]? It's going to be quite vicious, isn't it? How do you prepare for that?"

First Lady Michelle Obama: "You know, it's … we're ready, you know. Our children, you know, could care less about what we're doing. We work hard to do that. Fortunately, we have help from the media. I have to say this: I'm very grateful for the support and kindness that we've gotten. People have respected their privacy and in that way, I think, you know, no matter what people may feel about my husband's policies or what have you, they care about children and that's been good to see."
Gateway Pundit's Jim Hoft thinks Mrs. Obama should have included a Sarah Palin child carve-out, but supports the point with Montgomery Burns-weak examples. Yes, Katie Couric made an offhanded joke about the Palin kids' alliterative names…during rehearsal. Yes, Wonkette published a heinous attack on Trig Palin…to universal condemnation. Yes, Piper Palin was the subject of an article critical of her use, by Sarah Palin, as a "human shield"…in a UK newspaper…'s blog…in their "Life and Style" section.
While there are many other examples of the Palin kids receiving inappropriate attention, they are general of the pop culture variety, and not from the mainstream news media. That's a valid point to discuss, but it's a truckload of apples and oranges away from what Michelle Obama was talking about. Surely, Mrs. Obama wasn't referring to that UK paper, the same one that made headline news of Malia Obama's decision to wear a peace sign t-shirt, or to marginal blogs like Wonkette…or Free Republic, which featured a piranha tank of vile attacks against Malia for the same infraction, or to a single high-profile media figure like Katie Couric…or Glenn Beck, who openly mocked Malia Obama on the air, not in rehearsal.
There are also key differences between the Palin and Obama kids. Bristol Palin is now an adult, and a celebrity in her own right, facts which some liberal media figures use to justify attacks that, frankly, would never have been tolerated against Chelsea Clinton. In fact, then-MSNBC anchor David Shuster was suspended in 2008 for remarking that Hillary Clinton's campaign was "pimping out" Chelsea on the stump, and 2008 Republican nominee John McCain was roundly excoriated for making a joke about then-18 year-old Chelsea's looks (and Janet Reno's anatomy).
In Bristol's case, there were reports that Keith Olbermann was "called on the carpet" by MSNBC execs for picking on Ms. Palin (MSNBC denied the report), but she didn't appear to need the help. She fired back at Olbermann ably, and his refusal to accept her offer to appear on his show speaks volumes about who won that round.
By and large, then, the mainstream media police themselves rather effectively when it comes to the children of politicians, even into adulthood. Malia and Sasha Obama are still too young (and sheltered) to get into much trouble, beyond t-shirt selection, but as that changes, it will be interesting to see if the voracious dynamics of the new media overtake the "kids are off limits" sensibility, and who will be there complaining the loudest.
Have a tip we should know? tips@mediaite.com