Zut Alors! SNL's Kenan Thompson Blames Lack of Black Female SNL Cast Members on What?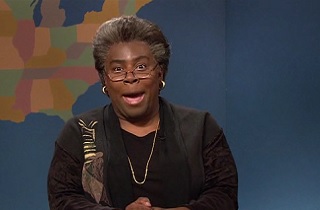 Saturday Night Live is a notoriously tough workplace for women, but it's a downright tundra when it comes to black female talent. Cast member Kenan Thompson offered his own diagnosis for the paucity of black women on SNL, which currently features no black women in the cast, and according to TVGuide.com's Sadie Gennis, has only employed four black female cast members in it's entire history. Here's Thompson's explanation:
When asked what the show would do now when confronted with potential black female characters or celebrity spoofs, Thompson told TVGuide.com, "I don't know. We just haven't done them. That's what I'm saying. Maybe [Jay Pharaoh] will do it or something, but even he doesn't really want to do it."

Instead of blaming showrunner Lorne Michaels or the series, which currently only employs three actors of color out of 16 cast members (Thompson, Pharaoh and the Iranian Nasim Pedrad), Thompson blames the lack of quality black female comedians. "It's just a tough part of the business," Thompson says. "Like in auditions, they just never find ones that are ready."
Oh yes, he did. Thompson goes on to offer this assessment of the six new cast members, which sets up an extremely uncomfortable contrast with his earlier remarks:
As to how the six new (all white) cast members are faring so far this season, Thompson says they're doing just fine. "They're all contributing in different ways I think. They've been doing great job so far. They're all very, very smart and talented, so that's how it is. That's the kind of people I guess that get the job," Thompson says.
Reaction to Thompson's remarks has been predictably negative, but also pretty funny. Many have suggested that he was the weaker half of Kenan and Kel, and suggested that he reach out to Mitt Romney for some binders to peruse. If the Twitter storm keeps up, maybe Lorne Michaels can find some adequate talent in Kenan Thompson's timeline.
(h/t Imani Gandy)
[photo via screengrab]
Have a tip we should know? tips@mediaite.com