A True Slumdog Millionaire: Poor Clerk Becomes First To Win Million Dollars On Indian Game Show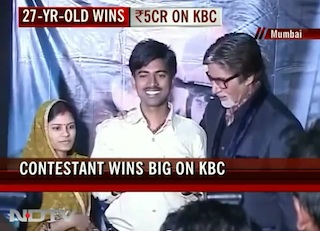 All journalists, bloggers, and writers have their favorite types of stories. Some like to write about breaking events, those shocking situations that transpired mere moments before their fingers hit keyboard. Others like to speak truth to power, catching public figures in a big scandal or telling hypocrisy. Me, however, I like to write about news stories that seem to closely follow popular movie plots. I don't know why. That's just me.
And let me tell you, this story about a poor government clerk becoming the first grand prize winner on India's Who Wants to be a Millionaire? is the best example of that ever! Even better than the previous example. Mostly because this story's happy and no one had to die for it to happen.
While Sushil Kumar didn't use his appearance on the show to locate the love of his life who was being held captive by his brother and an evil drug dealer or anything as he's already married, he is the first person to win the show's jackpot of 50 million rupees (the prize was raised last year) and he is an inspiration to many. He is a poor clerk from Motihari who, before his win, couldn't even afford a television.
From the Associated Press:
"Before Kumar went on the program, which was taped Tuesday and will air next week, he earned $120 a month as a government office worker and supplemented his income by working as a private tutor in the small town of Motihari in the eastern state of Bihar.

Kumar, the 26-year-old son of a farm laborer, told viewers his family was so poor they couldn't afford a television set, forcing him to go to a neighbor's home to watch the quiz show. Watching him tick off correct answer after correct answer, his neighbors persuaded him to try out for the show, he said.

The trip to the Mumbai studio where the show is taped was his first ride in a plane and his first visit to a big city, he said."
It's a great story. It would be even better if everyone involved left the studio and went right to a local train station for an awesome dance number.
The episode, which was taped this week, won't air till next week. Until then, here's a news report on Kumar from NDTV:
(h/t 21st Century Boy)
Have a tip we should know? tips@mediaite.com