(UPDATED) Fox News Knew of Department of Justice Subpoena in 2009, According To Report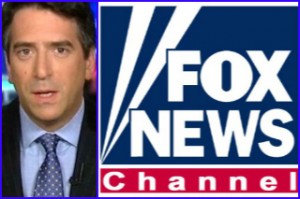 UPDATE: The New York Times Updated Their Story Below:
It is not clear how often the government has obtained reporters' communications records. In the North Korea case, the F.B.I. obtained call logs for five lines related to Mr. Rosen, and — as in the A.P. investigation — notified the news organization only afterward. That was nearly three years ago, a law enforcement official said. But the subpoena's existence became public only this month, when unsealed court papers also showed the government had obtained the warrant for Mr. Rosen's e-mails.
On Saturday, a Fox News executive said that the notice had gone to News Corp., its parent company, on Aug. 27, 2010, but that Fox News was not told until Friday. The executive said they were still trying to sort out how the notice fell through the cracks.
—-
As originally published below:
The New York Times revealed today that the Justice Department informed Fox News of its subpoena of Chief Washington correspondent James Rosen's phone logs, a fact which Fox News did not disclose:
While Fox was informed nearly three years ago about the subpoena for call logs for five lines related to Mr. Rosen — apparently after the phone company had already provided them — it did not publicly disclose the action. Instead, it emerged only this month when court papers were unsealed that also showed that the government had separately obtained a warrant for the contents of Mr. Rosen's private e-mail account. A lawyer and spokesmen for Fox did not respond to requests for comment.
It sounds as if Fox knew of the seizure of phone logs, but not of the actual breadth of the investigation, which included monitoring Rosen's comings and goings at the State Department, seizing his emails, and even considering naming him a co-conspirator.
In this light, Monday's response by Fox's executive vice president of news Michael Clemente's sounds a bit more carefully crafted:
We are outraged to learn today that James Rosen was named a criminal co-conspirator for simply doing his job as a reporter. In fact, it is downright chilling. We will unequivocally defend his right to operate as a member of what up until now has always been a free press.
It is the charge Fox learned about Monday, not the actual subpoena.
The Times somewhat buried the lede, but it got caught by a few writers, including Michael Calderone with Huffington Post.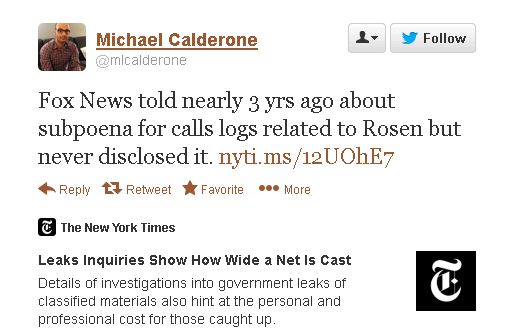 Commenters were quick to respond, "That's your take away? [This] has nothing to do with emails. Stop carrying Barry's water."
Read the full (Updated) New York Times article here.
[h/t New York Times]
—
Editor's note: This post has been edited since its original posting – Jon Nicosia
Have a tip we should know? [email protected]