Giuliani: Obama Said Same Thing about Black Crime as I Did, But I Was Called a Racist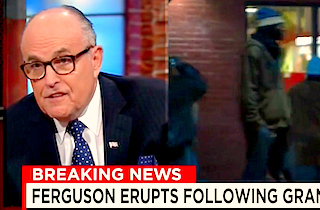 Former Gotham Mayor Rudy Giuliani thinks he got a bum rap when his comments last Sunday on Meet the Press, in which he said that white officers shooting black people was at least partially caused by the heavy police presence in minority community, blew up into accusations of racism, especially as President Barack Obama iterated the same point in his speech last night.
"I said the same thing the President of the United States said and I was accused of being a racist," Giuliani told CNN's New Day Tuesday morning. "The president said the minority communities are typically subject to more crime, they need law enforcement more than anybody else. When he said it, he wasn't accused of being a racist. When I said it my adversaries said I was a racist."
RELATED: Giuliani Hits Back at Dyson: I've Saved More Lives in His Community than He Has
Obama did cite the need for heavier police presence in minority communities based on crime statistics, but did not so glibly interpret that argument with regard to a police shooting of a black teenager.
"I don't say that out of any racial motivation," Giuliani said of the crime statistics he cited. "I say that as a factual statement and as a plea. Please, do something about that. When the president was talking last night about training the police, of course the police should be trained. He also should have spent 15 minutes on training the community to stop killing each other in numbers that are incredible."
Watch the clip below, via CNN:
[Image via screengrab]
——
>> Follow Evan McMurry (@evanmcmurry) on Twitter
Have a tip we should know? tips@mediaite.com