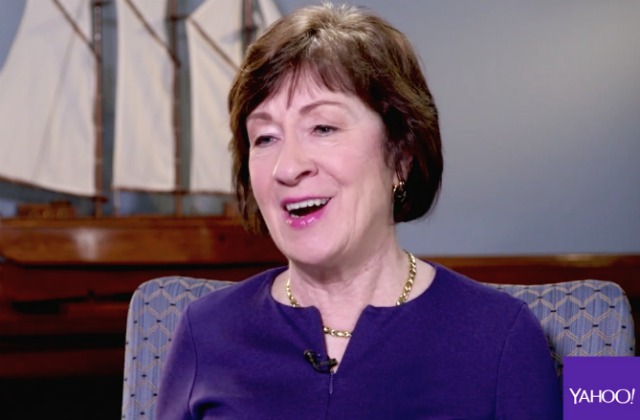 Key Republican Senator Susan Collins  (R-ME) unloaded on President Donald Trump Friday morning, calling the president's tweet questioning the credibility of Christine Blasey Ford 'appalling.'
"I was appalled by the president's tweet," Collins said while speaking at an event on Friday in Portland, ME, according to the Portland Press Tribune. "First of all, we know that allegations of sexual assault — I'm not saying that's what happened in this case — but we know allegations of sexual assault are one of the most unreported crimes that exist. So I thought that the president's tweet was completely inappropriate and wrong."
PORTLAND, Maine (AP) — Republican Sen. Susan Collins of Maine says she's "appalled" by President Donald Trump's tweet criticizing his Supreme Court nominee's accuser.

— Zeke Miller (@ZekeJMiller) September 21, 2018
While Ford has been the target of consistent attacks from Trump's base since coming forward with sexual assault allegations against Supreme Court nominee Brett Kavanaugh, this morning marked a turning point in Trump's strategy. White House aides had reportedly been stunned by the respectful tone Trump had utilized towards Ford earlier this week.
Collins, while not on the Senate Judiciary Committee, is considered a crucial vote in Republicans' goal to seat Kavanaugh on the highest court in the land before the fall midterm elections.
Others, including Senate Judiciary Committee member Sen. Jeff Flake (R-AZ) — who warned he wouldn't vote to confirm Kavanaugh if Republicans rammed his nomination through without due diligence — also spoke out against Trump.
NEW: Sen. Jeff Flake (R-Ariz.) tells me that he does not condone President Trump's tweet about Christine Blasey Ford today.

"I thought that was incredibly insensitive," Flake said.

— Sean Sullivan (@WaPoSean) September 21, 2018
Have a tip we should know? tips@mediaite.com