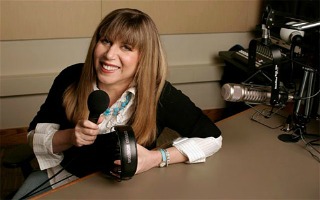 On Tuesday, progressive radio host Randi Rhodes has sparked a controversy over her assessment of former Massachusetts Gov. Mitt Romney and Sen. Marco Rubio's (R-FL) dynamic on the campaign stump when she described the pair's dynamic as "homoerotic."

RELATED: Anti-Gay Radio Host And Log Cabin Republican Argue Over Romney's Appointment Of Gay Spokesman
I guess I'd call it the, 'is Marco Rubio too short to stand next to Mitt Romney' tour slash audition. That's what it is. And, you know, and the answer is yes. Because when they stand next to each other, Marco Rubio looks like a 17-year-old. God love him. He does. He looks like a little boy. It's almost that Batman and Robin thing that Quayle and Bush senior had going on there. It's very homoerotic, I've got to say.
Now, I'd love to play the "imagine if a Republican had said it" game, but it's always difficult to prove a negative. Particularly to those dispossessed of any self-awareness. So, let's not.
For those of you with a modicum of an understanding about how the disparate gasses of feigned outrage coalesce, reach critical mass, burn brightly for a week or so and quickly fade into memory as other incandescent rages outshine the last, you already know how that game is played.
We can say, however, given how Mitt Romney's hiring of an openly gay foreign policy and national security spokesman has yielded to elbow prodding by the left into the sides of right-leaning voters ("this makes you mad, right? You closet homophobe, you"), it's clear that gays and lesbians will be a highly contested demographic in 2012.
Rhodes should be careful. Her words, and those of others on her side of the aisle, have the potential to create fissures in this once monolithic demo.
Listen to the segment below via the Randi Rhodes radio program:
Have a tip we should know? tips@mediaite.com