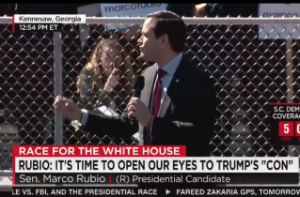 A lot of things happened during a Marco Rubio speech today in Georgia. The man was very much on a roll and genuinely seemed full of life and vigor, which is probably a good thing for his campaign, considering the Robot Rubio jokes that have been flying since his strange malfunction at a recent debate.
He called Donald Trump a con artist again, called Bernie Sanders an unapologetic socialist (even though he used to be pretty into that), and called himself the best choice for a GOP nominee. He hypothecized that the media is laying off of Trump because they're "licking their chops" as they wait for him to become the nominee so they can tear him apart, propelling the Democratic nominee to the presidency.
He also said that there is another reason the media won't cover Trump as negatively as Rubio feels he deserves: The media is afraid of "Twitter hate." It's true that Trump, his campaign staff, and his fans are all known for piling on anyone who upsets the candidate, so there could be some merit to the fear Rubio described reporters as feeling.
Following that, he said, "Oh, and by the way, the Democrats are being gleeful about it. They know if I'm nominated, we're gonna win."
Rubio also used the rally as an opportunity to get in with Millennials. His "Ru-bae-o" campaign got coverage but sort of fell flat, but Snapchat is the key to success in the younger demographic and he (or maybe a college-aged campaign staffer) knew that. A super PAC created a location-specific geotag filter for attendees of the rally to use on their photos, even jumping on the very of-the-moment #NeverTrump tag in their advertisement of it on Twitter.
From the @marcorubio rally in GA today. @Snapchat friends don't let friends vote for con artists. #nevertrump #gapol pic.twitter.com/jhnMmJ1Gvx

— ConservativeSolution (@cspac) February 27, 2016
Time will tell if this version of Rubio sticks around.
[image via screengrab]
For more from Lindsey, follow her on Twitter.
Have a tip we should know? tips@mediaite.com