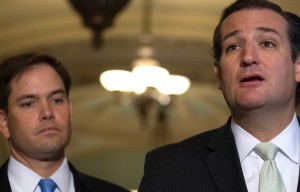 In a memo released Monday, the Cruz campaign took aim squarely at Marco Rubio and averred that "Ted Cruz is the only candidate who can beat Trump" — in large part because Rubio cannot secure enough of the Republican base to steal the nomination away from the frontrunner Donald Trump.
The memo argues that the GOP race has contracted to a three-man contest between Cruz, Rubio, and Trump, and, further, that the Florida senator "cannot beat Trump" because he is running "from the political Left," is too popular with moderates to secure the nomination, and hasn't won a single primary state so far.
The memo, written by Jason Johnson, Chief Strategist for Cruz for President, reads in part:
Trump can't be beaten from the political Left, with a candidate who emphatically supports amnesty and who allows Trump to be considered the "conservative" in that context.

[…] Rubio does well with moderates. But moderates are only 22% of the Republican primary vote nationwide. To win, to beat Trump, a candidate must do well with the Republican base.

Rubio is consistently third with conservatives, very conservatives, and Evangelicals. Cruz and Trump are battling neck and neck for these key groups, which together comprise over two-thirds of the Republican primary vote.

Ted Cruz is substantially outperforming Rubio, and in many cases beating Trump, for the Republican base vote. The core of the party is with Cruz and may not be with Rubio head-to-head against Trump.

The battle for conservative voters is clearly between Cruz and Trump, with Cruz winning one state and Trump edging out Cruz in the other two; Rubio lags behind in all three.
The memo argues that Cruz is better positioned to beat Trump than Rubio because he is more likely to build a winning coalition — pointing to data that shows, for instance, that Cruz has been more popular than Rubio with voters with a high school diploma or less in South Carolina, Iowa, and New Hampshire. (Though Trump is still more popular with this set than Cruz.)
You can read the complete memo here.
Have a tip we should know? tips@mediaite.com