TONIGHT! Mediaite's 'Privacy, Security, And The Digital Age' — The Debate That Will Define 2013
TONIGHT at 6:00 p.m. ET, Mediaite will be hosting a panel discussion entitled "Privacy, Security, and the Digital Age," focusing on the policy issues that arise from questions of privacy, security, and our increasingly digital world. Sponsored by the Charles Koch Institute, the event will feature speakers from a variety of perspectives on these issues, including former White House officials, tech policy experts, and civil liberties advocates.
With last month's NSA leaks from security contractor Edward Snowden, our nation has been propelled into a debate over the nature of privacy and the limits to government surveillance. This is a debate that will define 2013 and we hope to foster an intellectual marketplace centered around that conversation.
We will be live-streaming the event on our website and will be providing relevant coverage in the days leading up to it. Check back on the site at around 6:00 p.m. Tuesday for the live event.
WATCH HERE LIVE: Mediaite's 'Privacy, Security, And The Digital Age' — The Debate That Will Define 2013
Below is the official press announcement:
NEW YORK—News outlet Mediaite will host an in-depth policy summit on July 23rd entitled "Privacy, Security, and the Digital Age" sponsored by the Charles Koch Institute. Moderated by Mediaite Senior Editor Andrew Kirell, speakers will explore a range of issues central to ensuring the protection of individual freedoms in our increasingly digital world while also allowing for the proper role of government in protecting its citizens.

Featuring:

John Bolton of AEI, Former U.S. Ambassador to the United Nations
Ben Wizner of ACLU, ACLU Speech, Privacy & Technology Project Director
Michael R. Nelson of Bloomberg Government, Adjunct Professor of Internet Studies at Georgetown University
Tom Cochran of Atlantic Media, former White House Director of New Media Technologies
Adam Thierer of GMU, Senior research fellow at the Mercatus Center's Technology Policy Program

"Every media and tech organization in the United States is now on the front lines of this discussion, whether we like it or not. Mediaite.com is thrilled to be able to facilitate a public discussion of these important topics," said President of Abrams Media Bridget Williams. "Further, we feel compelled to define this topic not from a political spectrum of right, left, center but a meaningful, robust discussion focusing on facts, reason, common ground, and compromise. We thank the Charles Koch Institute for fostering this open marketplace of ideas on this topic."

"A primary challenge for today's policymakers, civil liberty leaders, and the public at large is mapping the crossroads of innovation, privacy, and human well-being. We hope this event marks a positive milestone in that effort," said Richard Fink, Director of the Charles Koch Institute. "We believe fostering a diverse, productive discussion prompts the critical analysis that leads to the best solutions."

The cocktail event will take place from 6:00 – 8:00pm on Tuesday, July 23rd at The Knight Conference Center of the Newseum. Space is limited, so please RSVP as soon as possible.

For additional information, please contact info@mediaite.com
This event is for press and policy makers. If you would like to request an invite, please email info@mediaite.com.
— —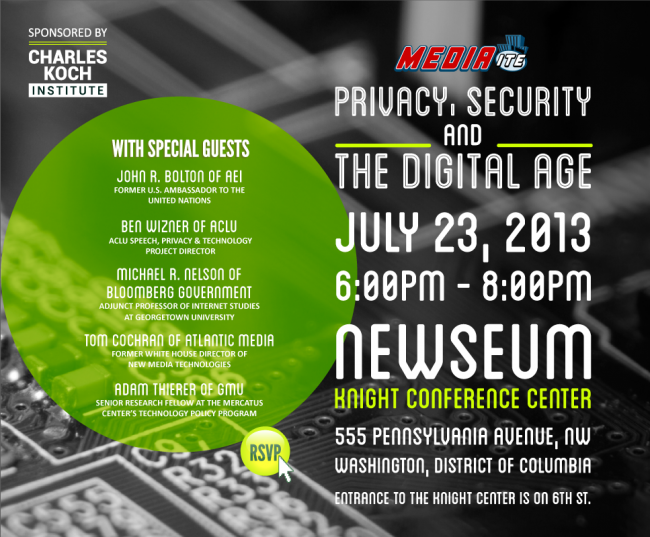 Have a tip we should know? tips@mediaite.com