Trump Foreign Policy Advisor Denies Saying 'Ovens Were Too Small to Kill 6 Million Jews'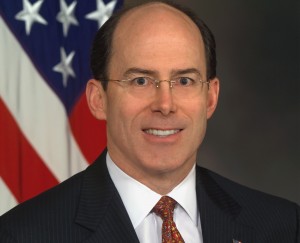 Trump foreign policy advisor Joseph Schmitz is under fire for allegedly making anti-Semitic remarks and boasting about ousting Jewish employees at the Defense Department when he was inspector general for just over three years, McClatchy reports.
A senior intelligence official filed a complaint against Schmitz alleging that he bragged about firing Jews and that he expressed skepticism about the Holocaust. Specifically, Schmitz said that the "ovens were too small to kill 6 million Jews," Daniel Meyer wrote in his complaint, citing John Crane, a former Pentagon official who worked with Schmitz.
Schmitz told McClatchy that the allegations were "completely false and defamatory."
Schmitz left his watchdog role 11 years ago "amid accusations that he protected top officials in the George W. Bush administration suspected of wrongdoing," Newsweek wrote.
Schmitz's rocky three-and-a-half-year tenure as the Defense Department's inspector general ended in September 2005 amid a barrage of attacks questioning his leadership, mostly notably from Senator Charles Grassley, the long-serving Iowa Republican who has championed whistleblower rights at the Pentagon. Grassley, then-chairman of the Senate Finance Committee, accused Schmitz of blocking investigations of Bush administration officials tied to Iraq and Afghanistan war contracts and questioned his ties to lobbyists. Schmitz also drew scrutiny for naming L. Jean Louis as his chief of staff. Louis was a bank investigator who gained notoriety for raising accusations, later discredited, against Bill and Hillary Clinton during the Whitewater scandal.
In 2005, the Los Angeles Times reported that "Schmitz slowed or blocked investigations of senior Bush administration officials, spent taxpayer money on pet projects and accepted gifts that may have violated ethics guidelines."
He joined the Trump campaign in March.
—
[image: Department of Defense]
Sam Reisman (@thericeman) is a staff editor at Mediaite.
Have a tip we should know? tips@mediaite.com