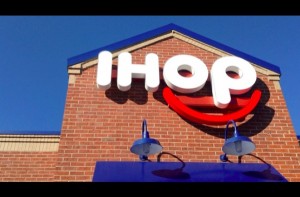 Come for the bottomless pancakes, stay for the terribly unfortunate customer service slip-up.
An African-American couple in Austin, Texas was stunned to find the distinction "BLACK PPL" on their check at the end of their meal this week. Rolman Sparkman and his girlfriend Arainia Brown went to an IHOP on Monday for a meal to find a rather, uh, unfortunate way that the restaurant decided to identify the couple sitting in the booth.
The strangest part of the story, by Brown's account, is that the waiter — identified by the name tag "Dwayne" — is also black.
Sparkman told Fox 7, "My girlfriend came up to me and said 'You see the receipt? It says black people on there.' 'I said what do you mean it says black people'"?
Dwayne Williams later apologized on his Facebook page for the incident, saying that the moniker was simply used to identify the duo while in a rush to get orders out to customers in the restaurant.
IHOP released the following statement:
This was a poor choice made by our franchisee's team member, and is not in keeping with policies and procedures. We recognize that it could be offensive and sincerely apologize. Everyone is welcome in our restaurants and our franchisee is using this as a teachable moment for the entire team so that it will not reoccur.
"That's kind of messed up that you have to put your own people down… People are being racist, and it's your own people being racist toward you for no reason," said Sparkman later. Williams lost his job shortly afterwards.
Watch the above report from Fox 7-Austin.
[image via Flickr]
Have a tip we should know? tips@mediaite.com