Jeanine Pirro Gives Speech at Pro-Trump Event in Florida: Mar-a-Lago 'Sure Ain't No Sh*thole!'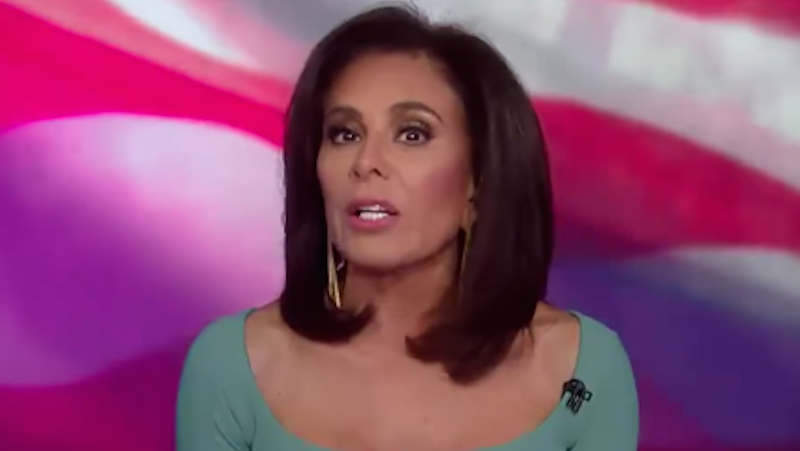 Fox News host Jeannine Pirro headlined a fundraising event for President Donald Trump at his Mar-a-Lago resort in Florida, and according to the Washington Post, opened with a line poking fun at one of the president's recent controversies.
WaPo's David Farenthold reports:
"Welcome to Mar-a-Lago!" Fox News host Jeanine Pirro said as she took the stage. "A magnificent place . . . "

She was smiling. That was a setup. Here was the joke: "It sure ain't no shithole!" Pirro said.

The Donald J. Trump Grand Ballroom erupted.
Pirro, who apparently found her way out of the woods in Chappaqua, sped down to Florida to headline Thursday night's event at Mar-a-Lago. It was reportedly dubbed the "Red, White and Blue Celebration for We the People," and thrown "by a Palm Beach group called Trumpettes USA."
Ticket prices were set at $300 — "very low for Palm Beach," as Farenthold notes – and the resulting crowd was a collection of hundreds of Trump supporters who had traveled from across the country to meet likeminded MAGA-enthusiasts.
The event came days before another fundraiser at Mar-a-Lago — one which Trump was hoping to attend, before the government shutdown threw a wrench into his weekend plans — is set to take place at the resort on Saturday night.
Saturday night's event promises to be a touch more gilded than the humble affair thrown by the Trumpettes: per Bloomberg News, tickets started at $100k per couple, with money raised going to Trump's reelection bid.
Read the full WaPo report for more detail on the colorful array of characters in attendance at the event.
[image via screengrab]
—
Follow Aidan McLaughlin (@aidnmclaughlin) on Twitter
Have a tip we should know? tips@mediaite.com
Aidan McLaughlin - Editor in Chief