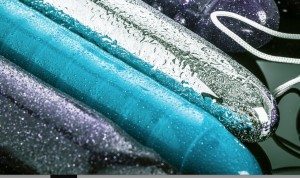 It's a nightmare scenario we've all envisioned: you're meeting with an important client, having coffee with your pastor, or leading a parent/teacher conference when suddenly, an unmistakable hum emanates from your top desk drawer. Now, that nightmare has become a terrifying reality, as tech wizards have figured out a way to hack internet-connected sex toys. From Reuters:
Trend Micro spokesman Udo Schneider surprised journalists at a news conference this week by placing a large, neon-pink vibrator on the desk in front of him and then bringing it to life by typing out a few lines of code on his laptop.

While the stunt provoked sheepish giggles, the message was sobering. As the number of smart, interactive devices connected to the Internet explodes, concern is mounting about insufficient safeguards and a lack of consumer and employee awareness.
Before you ask, I have no idea why anyone would want an internet-connected sex toy. Does anyone really want to read the comments section for their vibrator?
The real news here, though, is that these guys really need to get out more:
"If I hack a vibrator it's just fun," Raimund Genes, Chief Technology Officer at Tokyo-listed Trend Micro, told reporters at the CeBIT technology fair in Hanover.

"But if I can get to the back-end, I can blackmail the manufacturer," he added, referring to the programming system behind a device's interface.
If writing code is the most fun thing you can think of to do with a sex toy, and your idea of "getting to the back end" is cracking an operating system, maybe it's time to shut the laptop and get some fresh air.
To be fair, though, remotely turning on a vibrator might not seem all that scary, but it's a short trip from there to being chased through the night by your Real Doll and a pack of sentient Fleshlights. Don't say we didn't warn you.
Have a tip we should know? tips@mediaite.com