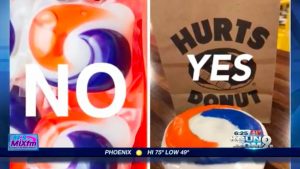 Has the solution to the Tide Pod challenge finally been found? Probably not. But if you want to eat something that resembles a laundry detergent pod, then you can now do so without going to the hospital.
On Wednesday, residents in Wichita, Kansas and Springfield, Missouri were able to delight in the new Tide Pod Doughnut courtesy of Hurts Donuts.
It was only a matter of time: The Tide Pod doughnut is born https://t.co/H5n97ImwAJ pic.twitter.com/WUuJI6h7Ua

— Mashable (@mashable) January 18, 2018
While the reviews of the doughnut itself looked positive, the reviews for the concept were mixed.
One resident told local Witchita, Kansas NBC News affiliate KSNW said,  "I was like well you know I'm on a diet right now but you know I don't think Tide Pods got carbs in them, might as well try it."
On the other hand, people were quick to point out their disdain for the concept. "I'm sad people think this is so funny. So what if there is a size difference. This is bad. Children are going to see these and associate them with Tide Pods," one Facebook user wrote.
The Tide Pod Challenge, where people upload videos of themselves eating Tide pods, has caused more than a few problems recently. Tide's twitter account even went into overdrive trying to help those who ate the laundry detergent pods, or were joking about it.
[image via screengrab]
Have a tip we should know? [email protected]