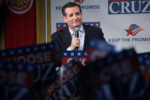 Rafael Edward Cruz, more commonly known as Ted Cruz, has been serving as the United States Senator for Texas since 2013. He is a Cuban American. He ran for president in 2016 and was the runner up for the Republican nomination. Ted Cruz was born on December 22, 1970, and is married to Heidi Cruz and has two children.
Ted Cruz Q&A
How could Ted Cruz be president if he was born outside the United States?
Cruz was born in Canada, which challenges the natural-born clause in the Constitution. The Board of Elections ruled in Cruz's favor, saying, "The candidate is a natural-born citizen by virtue of being born in Canada to his mother who was a U.S. citizen at the time of his birth."
Where was Ted Cruz born?
Ted Cruz was born in Calgary, Canada
Where did Ted Cruz go to college?
He earned his bachelor's degree from Princeton University and went on to Harvard Law School.
Ted Cruz Noteworthy Stories
July 21, 2019
Ted Cruz thinks that Fox News went 'all in' for Trump in 2016.
March 7, 2018
Ted Cruz and Joe Scarborough go head to head about gun control on the Morning Joe.