2 Broke Girls Panel Gets Incredibly Ugly After Critics Ask Creator About Racial Stereotypes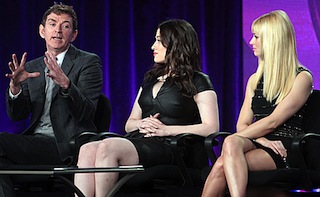 Normally at Mediaite, our friends, the Panel Nerds, handle all things panel-related, but it seems like once every year there's a story from the Television Critics Association panels that's just too good for us to miss out on. Last year the panels (in which television critics get to ask questions of all the big executives, producers, showrunners, and stars from the various networks) gave us the hilarious story of Oprah Winfrey's epic, 18 minute-long answer to a single question. This year we've got the amazing accounts from the 2 Broke Girls panel which numerous critics are calling "the most uncomfortable in recent memory."
But, wait. How could a 2 Broke Girls get so ugly? That's just that CBS show about two struggling waitresses in Brooklyn, right? Sure, the show's version of Brooklyn looks like something someone from the 70s who had never been there would think up and, sure, the show seems to think a "hipster" is someone who listens to Coldplay, but it still seems pretty innocuous. How could it cause much anger?
Well, in case you don't follow the general coverage of network sitcoms (God, I lead a sad life), you may not know that the general consensus is that 2 Broke Girls is an ok show with good stars that is getting absolutely ruined by some icky racial stereotypes in its supporting cast. You see, the titular girls work at a diner in which their co-workers include a short Asian man who can't drive, a gross and hairy Eastern European, and an older black man who likes to bang white ladies. To make matters worse, the black guy is played by Garrett Morris who, as one of the original Not Ready for Prime Time Players, really deserves better.
When the show premiered in the fall, CBS and its two creators Michael Patrick King (of Sex and the City fame) and Whitney Cummings (who's currently starring on her on critically-reviled series) promised critics that the show would take time in the coming episodes to "dimentionalize" these characters and turn them into humans instead of walking, talking racial stereotypes. Unfortunately, that didn't happen and, when critics asked King about this fact, things got bad. They got really bad.
Here's a taste of the amazing account from HitFix's Alan Sepinwall:
"When pressed further on whether it's appropriate for him to be writing those jokes, King argued, 'I'm gay! I'm putting in gay stereotypes every week! I don't find it offensive, any of this. I find it comic to take everybody down, which is what we are doing.'

[Critic Dan] Fienberg leaped in at this point and asked whether being a member of one oppressed minority gave him license to make fun of every other oppressed minority.

'Being a comedy writer gives you permission to be an outsider and poke fun at what people think about other people,' King said.

…

Things took a particularly uncomfortable turn when the reporter who had initially asked about Tassler's comments again tried to get King to clarify his remarks, reading the exact quote from the transcript of Tassler's executive session.

King asked the reporter for his name. The reporter gave it.

'So you're Irish?' King asked.

'Yes,' the reporter replied.

'So we've identified your sexual problem,' King said."
Just like with the Oprah incident, the fact that this was literally a room full of journalists means that there are tons of great versions of the story online. As good as Sepinwall's is, I think the most painful has to come from The A.V. Club's Todd VanDerWerff. VanDerWerff both covers 2 Broke Girls for the site, but has also been one of its staunchest defenders since the premiere. Back in September, he wrote that, by the end of the pilot, he "wanted to hang out at the diner at the show's center in the same way I always thought it would be cool to get a drink at Cheers." However, as the season continued and the show refused to fix its problems, you could read his disappointment brewing in his reviews. After seeing King's behavior, it would appear that he is finally severing the chord. Just read how he ends his write up of the panel:
"2 Broke Girls has so many good elements that making it a good show shouldn't be hard. Think of what Phil Rosenthal and Mike Royce—two producers with longstanding relationships with CBS—would do with the basic materials of a great cast, an interesting setting, and a provocative premise (one of the few non-tense moments in the panel came when the two stars discussed the show's ties to the Occupy Wall Street movement)! But that won't happen with Michael Patrick King at the helm, because Michael Patrick King is a lazy hack who makes an awful television show and doesn't realize it's awful because too many people watch it, a lazy hack who thinks he can get away with making fun of all disenfranchised groups by making fun of his own disenfranchised group every so often. Oh well. At least he pulled the wool away from some of our eyes."
Ouch.
However, with this many critics hating the show and pointing out how it's filled with horrible lowest common denominator jokes, we can only imagine it will remain a huge hit for years to come. Sigh.
Have a tip we should know? tips@mediaite.com