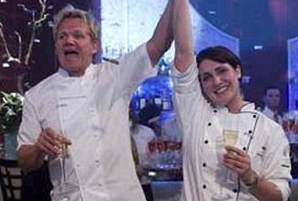 What? It didn't work out? The winner of last season's Hell's Kitchen thought she'd scored an epic job: head chef at the Savoy Grill, a Gordon Ramsay restaurant project inside the massively renovated (£220 million) Savoy Hotel in London, which opens today.
If you watched the show, you were treated to endless mentions of the Savoy and the job–pitched as a massive prize for whichever contestant could endure the backstabbing among the other contestants and the withering criticism of Ramsay himself. And now? Well, winner Holli Ugalde's not making the trip to London after all. "I'm extremely disappointed and I feel a little betrayed," she tells the Daily Mail.

Next thing you'll tell me is winners of The Apprentice don't actually get high powered gigs working for Donald Trump.
Ramsay and UK-based producers ITV claim a visa hangup kept Holli from landing the plum job, not any hesitation to turn over a huge position to an untested reality show winner:
ITV claims it made its 'best efforts' to obtain a visa for Ugalde, and a representative for Ramsay says: 'We were sorry that Holli Ugalde can't join the team. In spite of our best efforts, we were unable to obtain a work visa for Holli. Holli elected to receive the cash prize instead.'
A TV source claims: 'At no time has either Gordon Ramsay or the Savoy indicated to producers that they didn't want Holli to work at the restaurant. In fact, Gordon expressed disappointment to the producers when he found out that she wasn't able to obtain the visa and work at the Savoy.'
Ugalde considered suing, but says: 'I signed a contract for Hell's Kitchen that was as thick as a book, and somewhere in there it probably says they can substitute prizes. But that doesn't make it right. I received some cash in place of the Savoy job. I'm not allowed to say how much.
'Yes, Hell's Kitchen opened up a lot of opportunities for me. But now I'm not going to London it would at least be nice if Chef Ramsay had the decency to call and let me know what was going on. I know it was only a reality TV show, but it's my life, after all.'
Ah, the old "substitute prizes" clause. Perhaps Gordon Ramsay Express at the Seattle Tacoma Airport?
Have a tip we should know? tips@mediaite.com