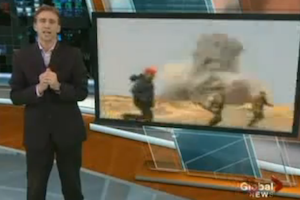 A month ago, television audiences were horrified when it appeared that Los Angeles reporter Serene Branson had suffered a stroke on live TV (it was later discovered to be a migraine that mimicked the appearance of a stroke). Last night, a similar incident has occurred in Toronto, as Global News' Mark McAllister was seen suffering from some kind of medical issue while attempting to report on Libya.
Just like in the Branson situation, McAllister seemed to lose control of his words and apologize to viewers as he tried to gain his composure. And, just like a month ago, clips soon appeared on YouTube, mocking an apparent flub. However, Global News, perhaps remembering the rampant speculation that followed the Branson situation, was quick to offer up a statement, calling this a "minor medical issue."
"While on the air during the 6:00 PM News Hour broadcast on Monday, March 21, Global Toronto reporter Mark McAllister suffered a minor medical issue causing him to experience a moment of disorientation. Paramedics were immediately called to the scene, where Mark was fully checked out and is feeling better. As a precaution, Mark will be pursuing this matter with his own doctor.

Mark would like to thank all Global Toronto viewers who have expressed concern for his well-being."
McAllister himself was also quick to respond, reassuring his audience on Twitter and trying to push past the incident: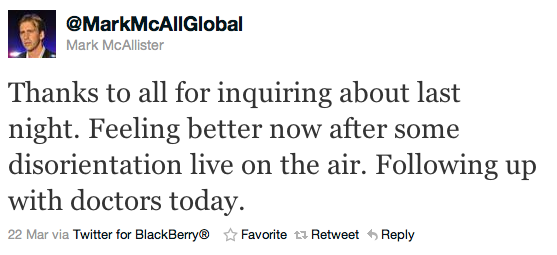 Fortunately, it looks like he is doing well and we wish him the best.
(h/t The Blaze)
Below is the clip from Global News:
Have a tip we should know? [email protected]