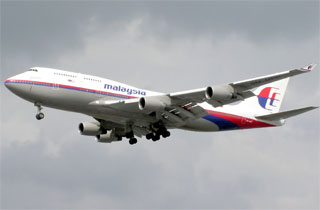 Given the terrible news about the missing Malaysian Airlines flight, now would not a good time to start production on movies about airplanes that crash in the ocean on the way to China. Thankfully, an Australian film production company has stalled production on Deep Water, a film about plane crash survivors fending off killer sharks. For now. They're still gonna make it. But only when, as Guardian was told by director Alister Grierson, "the furore around real-life events…die[s] down before the movie debuts on the big screen."
Technically, it's not Grierson's fault that the movie's pre-production period coincided with the events of MH370 (in fact, the movie was planned as a sequel to a popular Chinese film, also about a plane crash). And, many, many years from now, Hollywood will probably produce some Oscar-bait thriller about the tragedy. But out of curiosity, what is this movie about, and would its production be more or less insensitive than comparisons of the missing flight to Lost? Here's the synopsis of the film from The Hollywood Reporter:
An action horror, Deep Water tells the story of a flight that mysteriously crashes in a remote stretch of ocean on its way to China. The crash survivors then have to fend off killer sharks.

The film's tagline in early promotional materials reads: "Survivors of a plane crash face terror beyond reckoning as the plane is starting to sink into a bottomless abyss and soon discover they're surrounded by the most deadliest natural born killers on earth."
The Malaysian Prime Minister officially declared the flight lost this morning, after a grueling two-week search.
[h/t AV Club]
— —
>> Follow Tina Nguyen (@Tina_Nguyen) on Twitter
Have a tip we should know? tips@mediaite.com