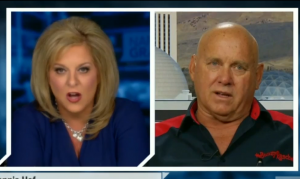 During her Wednesday show, Nancy Grace interviewed the owner of a Las Vegas brothel where Lamar Odom was found unconscious earlier this week.
Odom, a former NBA star and ex-husband of Khloe Kardashian, captured significant media attention this week when was hospitalized after several days of reported partying, drugs and soliciting prostitutes. Grace had Dennis Hof, the owner of the "Love Ranch," answer a series of tough questions in order to clarify what happened up until Odom was taken by the ambulances.
Hof said Odom was last seen awake by two of his girls at around 6 A.M. Tuesday when they left his company as he got some sleep. Food was delivered to him at around noon, when he appeared to be fine, but by 3:15 P.M., Odom was discovered comatose and foaming from the mouth.
Grace questioned Hof on how much Odom paid for their services, what sort of activities and supplements he partook in, and how his staff responded to the discovery.
As he was elaborating on the story, Hof said that he received a call from the Kardashian family, requesting that he respect the privacy of Odom and themselves by not speaking to the media. Hof said to Grace that he told them to "go to Hell," and has done several interviews describing Odom's condition, and his thoughts on the family's request.
"He looked like a guy who was really sick and needed to be rushed to an ER immediately," Hof said in an interview with CBS. "I'm the one protecting my business and telling the truth about it."
Odom remains in critical condition, with reports suggesting his organs are shutting down and has only shown brief, infrequent signs of responsiveness.
You can watch the report above, via HLN.
UPDATE 8:20 P.M EST: One hour ago, CNN reported a sign that Odom might be on the road to recovery. While details remain unclear, a source said that Odom regained consciousness long enough to say "hi" to Khloe Kardashian. Odom's condition remains critical and his brain organs have reportedly taken damage, but he is no longer comatose or on life support.
[Image via wikimedia]
— —
>> Follow Ken Meyer (@KenMeyer91) on Twitter
Have a tip we should know? tips@mediaite.com