WATCH: Seth MacFarlane's Epic Oscars Opening From 'We Saw Your Boobs' To 'Be Our Guest' (Feat. Cpt. Kirk)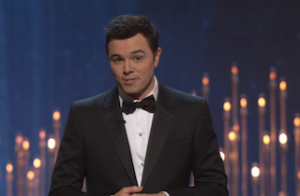 Seth MacFarlane opened the 85th annual Academy Awards Sunday night with an old-school monologue about this year's nominees, beginning with the line, "And the quest to make Tommy Lee Jones laugh begins now."
MacFarlane got in jabs about Ben Affleck's Best Director snub for Argo and Daniel Day-Lewis' attempt to always stay-in-character during the filming of Lincoln.
On Django Unchained's excessive use of the "n-word," MacFarlane said, "I believe the screenplay is loosely based on Mel Gibson's voice mails."
The first big surprise came when William Shatner as Captain Kirk appeared on a screen above MacFarlane's head from the future to tell him exactly how he ruined the show, and what he could still do to fix it. "Why couldn't they just get Tina and Amy to host the show?" Shatner asked.
This led to the epic musical number, "We Saw Your Boobs," which reviewed every time moviegoers have seen the breasts of every major actress in Hollywood. Thankfully, Shatner couldn't stop the world from seeing it.
To make up for that offending performance, MacFarlane performed a far classier version of "The Way You Look Tonight" featuring dance partners Channing Tatum and Charlize Theron.
Next up, Shatner showed the sock-puppet reenactment of the movie Flight, which MacFarlane decided to scrap in favor of a soft-shoe version of "High Hopes" with Daniel Radcliffe and Joseph Gordon-Levitt. And instead of hitting on Sally Field in a flying nun costume, MacFarlane closed his opening by singing his own Oscars-themed version of "Be Our Guest."
Throughout the opening, Shatner showed MacFarlane how his reviews would improve from "Worst Oscars Host Ever" to full-on raves (from everyone but Entertainment Weekly). It was certainly one of the longest and most elaborate Oscar openings in recent history, with enough highbrow and lowbrow moments to please most of the audience. Will the Monday morning reviewers agree and give MacFarlane high marks? And what did you think?
Watch video below, via ABC:
—
>> Follow Matt Wilstein (@TheMattWilstein) on Twitter
Have a tip we should know? tips@mediaite.com