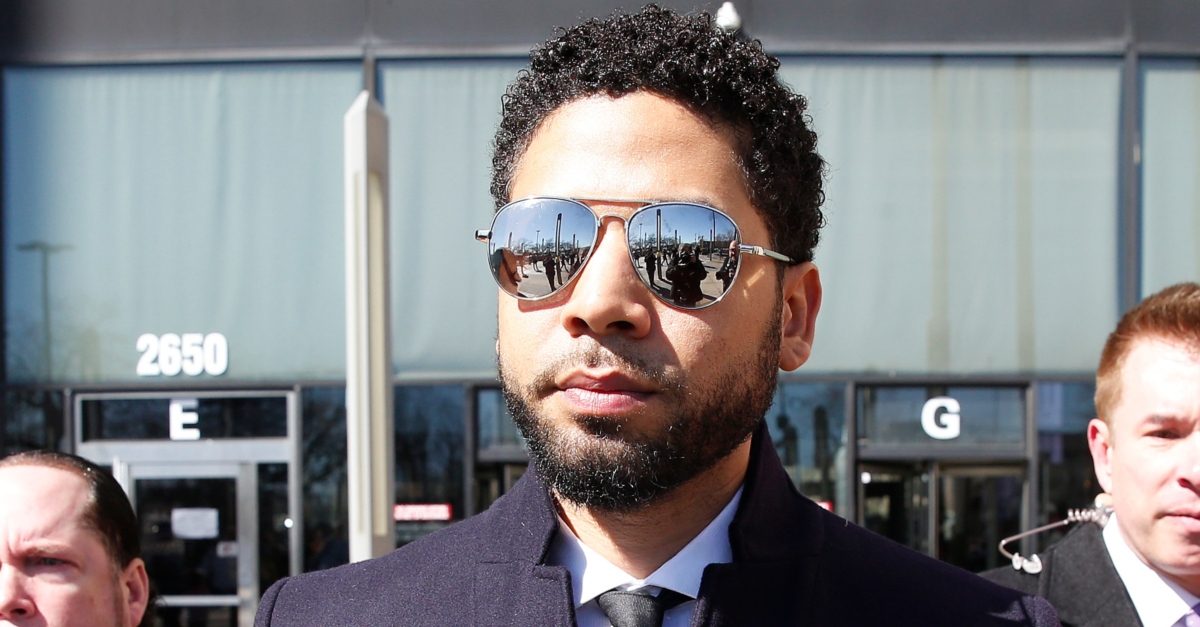 In a newly released statement, Jussie Smollett's lawyers said the actor is owed an apology from Chicago Mayor Rahm Emmanuel and Chicago Police Superintendent Eddie Johnson after Cook County prosecutors dropped the charges against him.
"It is the Mayor and the Police Chief who owe Jussie — owe him an apology — for dragging an innocent man's character through the mud. Jussie has paid enough," Smollett's lawyers said, according to CBS Chicago reporter Charlie De Mar.
The statement is in response to Chicago Mayor Emmanuel announcing he intends to bill Smollett for the cost of the investigation into what officials say was a hoax hate crime. Per De Mar, Emmanuel said he wants the memo of the reimbursement to read: "For Hoax," "I'm sorry".
That comes after one of Smollett's lawyer's, Tina Glandian, suggested the Osundairo brothers, the pair who say Smollett hired them to stage the hate crime, could have been wearing whiteface during the alleged attack.
"Well, you know, I mean, I think there's — obviously, you can disguise that. You can put makeup on. There is, interestingly enough, a video. You know, I think police had minimal investigation in this case, it took me only five minutes to Google. You know, I was looking up the brothers, and one of the videos that showed up actually was of the brothers in whiteface doing a joker monologue with white makeup on him. So, it's not — it's not implausible," she said.
Cook County prosecutors said while they are no longer charging the actor, it does not mean they believe he is innocent. They said they need to focus on more violent, urgent crimes in the city.
"Here's the thing — we work to prioritize violent crime and the drivers of violent crime. Public safety is our number one priority. I don't see Jussie Smollett as a threat to public safety," Joe Magats, the first assistant state's attorney, said.
"We stand behind the investigation, we stand behind the decision to charge him and we stand behind the charges in the case," he continued. "The mere fact that it was disposed of in an alternative manner does not mean that there were any problems or infirmities in the case or the evidence."
[Photo via Nuccio DiNuzzo/Getty Images]
Have a tip we should know? tips@mediaite.com