Kristen Stewart Talked About That Time Trump Was Way Too Into Her Relationship Drama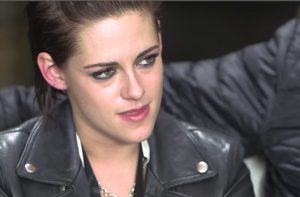 Back in 2012 when Twilight was everything, fans were shocked to find out that Kristen Stewart cheated on on-screen and real-life love Robert Pattinson.  One person who got way, way too invested in their relationship drama was President Donald Trump. In case you forgot about that, here's a refresher:
Robert Pattinson should not take back Kristen Stewart. She cheated on him like a dog & will do it again–just watch. He can do much better!

— Donald J. Trump (@realDonaldTrump) October 17, 2012
Everyone knows I am right that Robert Pattinson should dump Kristen Stewart. In a couple of years, he will thank me. Be smart, Robert.

— Donald J. Trump (@realDonaldTrump) October 22, 2012
Robert Pattinson is putting on a good face for the release of Twilight. He took my advice on Kristen Stewart…I hope!

— Donald J. Trump (@realDonaldTrump) November 9, 2012
Stewart is at the Sundance Film Festival and she sat down with Variety to discuss her short film Come Swim. Of course, however, they did have to address this week's inauguration and the women's marches that followed. And, of course, they had to ask about the series of Tweets Trump sent a few years back. "He was mad at me a couple years ago," Stewart said. "Really obsessed with me a couple years ago, which is f*cking crazy… I can't even understand it. I literally cannot even understand it… I don't want to believe that that is actually happening."
She continued, saying that "At that point, he was just like, reality star. I had no reference… It wasn't really a thing. But in retrospect, somebody reminded me of that and I was like, 'Oh my gosh, you're right!' He's probably, like, going to tweet about this."
We wouldn't be surprised.
[image via screen grab]
Have a tip we should know? tips@mediaite.com