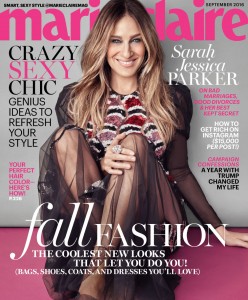 Sarah Jessica Parker is on the cover of the September issue of Marie Claire and she's talking about some hot-button issues. When asked about feminism, the former Sex And The City star has an interesting take: "I am not a feminist. I don't think I qualify. I believe in women and I believe in equality, but I think there is so much that needs to be done that I don't even want to separate it anymore." She continued, "I'm so tired of separation. I just want people to be treated equally."
So, it's not that she's not a feminist, per se. She just doesn't like the word. She went on to say some pretty feminist things: "I would like all of that nonsense to end. I would like women to get paid for the value of their contributions, not by old-fashioned ideas about gender." And she appreciates the women who are speaking out, like Jennifer Lawrence who has fought against the gender pay gap in Hollywood, and Emma Watson who has involved herself with a variety of causes.
"Women are paying the bills, getting it done, getting the kids here and there. The more we address that, we are all going to be better," she said.
Parker is on the cover of the magazine because of her new show, Divorce which comes out this Fall. It's on HBO and of course, everyone is wondering how much it's going to resemble her last HBO show. She said, "I love the way the pilot episode opens because everyone's asking, 'Oh, is this a spin-off of Sex and the City?' And the moment that the opening scene ends, and you see her give him the finger, you know it's very different."
[image: Michelangelo di Battista, Marie Claire]
Follow Dana Eisenberg on Twitter.
Have a tip we should know? tips@mediaite.com