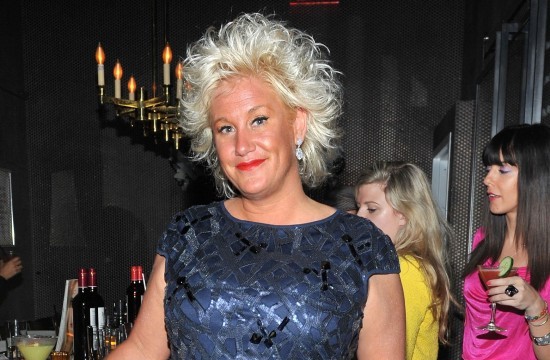 After she was inadvertently outed by her Food Network colleague Ted Allen, Anne Burrell has confirmed to The New York Post's Page Six that she is gay and is currently dating a woman.
Though the public revelation may have been unexpected, "Anne doesn't feel she was outed," says her rep. "She has made no secret of her relationship. Her significant other is a very private woman. They have been together for a couple of years and spend a lot of time together. It is no secret in the culinary world."
Allen, who hosts Food Network's Chopped and is himself openly gay, spoke freely about Burrell's romantic life on Sirius XM  last Friday, revealing that Burrell's Secret (to us) Lover is a chef at the renowned Chicago restaurant Avec.
Page Six also does that gossipy thing that it does when they find revealing anecdotes from unnamed sources about how Burrell "appeared alarmed when she learned of Allen's comments" during a taping of her show, which is illustrative, we guess, but not the best journalism? Ah well.
Burrell is the host of Worst Cooks In America and Secrets Of A Restaurant Chef, was formerly Mario Batali's sous chef on Iron Chef America, and taught my mother that salt in your food is kind of a good thing. So thanks for making my home life much better, Anne Burrell!
Also, Out Magazine will be totally happy now
after their article last year asking where all the gays were at on the Food Network.
Have a tip we should know? tips@mediaite.com