WATCH: Guy Fieri Weighs In On Crazy Kitchen Nightmares Couple, Because Of Course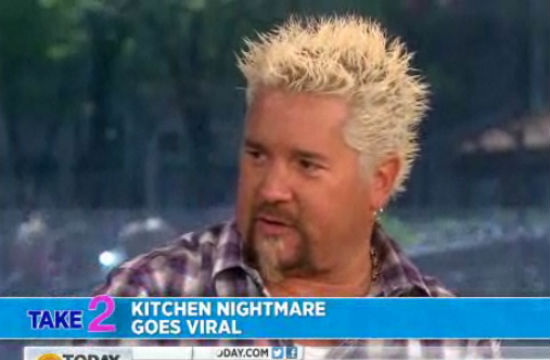 Guy Fieri stopped by The Today Show this morning to spatchcock a chicken in Rockefeller Plaza, and that's not even the most ridiculous thing he did. He also sat in with anchors Willie Geist and Natalie Morales on Take Three for a catch-up sesh on the state of Guy's American Kitchen + Bar in the months following Pete Wells' scathing zero-star review in the New York Times.
Unsurprisingly, Guy claims the net effect of the debacle was largely positive for the restaurant. Must be all those hipsters visiting ironically. Naturally, this was the perfect set-up to get Guy's opinion on that crazy Kitchen Nightmares couple who flipped their Jesus-loving lids on Facebook after their episode aired, hurling such genius tirades as, "To all of the Yelpers and Reddits: Bring it on. you are just pussies. come to arizona. you are weaker than my wife, and weaker than me. come to my business. say it to my face. man to man. my wife is a jewel in the desert. you are just trash. reddits and yelpers just working together to bring us down. pathetic." Said Guy:
"It's tough. You know, I'm a chef first, and a restaurant owner, way before I was ever on Food Network, and it's a tough business. And Gordon's show is a lot different than Diners, Drive-Ins, and Dives. You know, I go into places and say, 'Check out this dish. It's great.' So this whole dynamic that's taking place and how it's escalated — I'm actually in awe."
Well, that's a non-answer if we've ever heard one, but way to bring it back to Triple D. He also brings up other great places to eat in Scottsdale, AZ, if you're actively seeking to avoid Amy's Baking Company. Check out the segment below.
Visit NBCNews.com for breaking news, world news, and news about the economy
Have a tip we should know? [email protected]