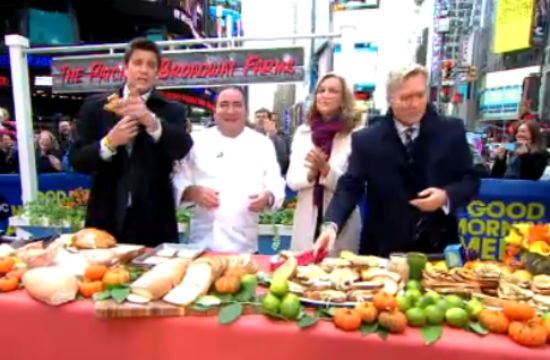 Let's call it like it is: the food news of the day is how to re-purpose your leftovers. Even we went there. But if you're still dozing off your food hangover and words make your brain hurt, here's a convenient clip round-up of video footage. No reading required.
Today Show: Katie Lee whipped up three sweet potato leftover recipes that make us wish we had doubled our Thanksgiving batches, while Ina Garten broke free from the crowd and demoed the utterly necessary holiday party hors d'oeuvres.
Today Show Fourth Hour: Todd English wins the award for most-creative turkey reinvention. He steers away from sandwich town and instead incorporates different ethnic inspirations, like turkey meatballs, turkey quesadillas, and turkey brunch. (Brunch is the universal ethnicity.)
Good Morning America: Emeril Lagasse went the more traditional turkey sandwich route, but he gets points for making an awesome accompanying slore (that's "slaw" in Pigeon Lagasse).
Today in bizarre LivingSocial Deals: A VIP pop-up event with Lorena Garcia. For $89, you can partake in a 4-course meal by Lorena, with wine pairings, at her alma mater Johnson & Wales University, where she will cook the meal with the help of current culinary students. For $149, you get the super swank package, which includes a meet-n-greet, an exclusive cocktail hour, and a signed cookbook.
Huffington Post: The former brewmaster of Goose Island in Chicago stepped down from his position to become a cider maker. We're pretty sure this is the beer world equivalent of joining the circus. However, in spite of its use of the phrase "branch-to-bottle," this week-in-the-life-of story on Gregory Hall is pretty fascinating.
Food & Wine: Did you know that Hugh Jackman is close personal friends with Jean-Georges Vongerichten and is actually a half-way decent foodie? Of course you didn't, but here's a Q & A that reveals all. Bonus: he dishes what Wolverine's favorite foods would be.
Have a tip we should know? tips@mediaite.com