New York Mag Food Critic Goes Public on Cover, No One Knows What To Think Anymore [Updated]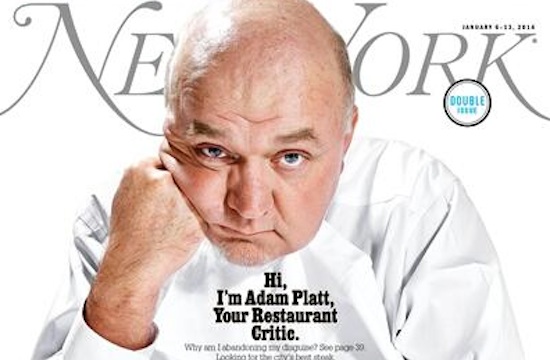 Adam Platt at New York magazine is just the latest restaurant critic to go mainstream. After all, Pete Wells locked down his reputation by destroying Guy Fieri, and Jay Rayner made it to Buzzfeed-famous, so we know how this story goes. And now Platt is making the biggest possible splash in abandoning his anonymity for fame — by getting mugged on the cover.
Naturally, New York mag's Twitter announcement of the cover made for some awesome commentary from New York food lovers and critics alike. But we think Wells wins the Twitter buzz — after all, why does Platt look so freaking miserable anyways?
Cover preview: Our restaurant critic Adam Platt (@plattypants) abandons his anonymity pic.twitter.com/j5LmKWx0YU

— New York Magazine (@NYMag) December 28, 2013
@NYMag @plattypants jesus Adam, you really do look like that. I thought you were wearing some complex prosthetic thing when we ate together.

— Jay Rayner (@jayrayner1) December 28, 2013
Looks like @plattypants is the food critic who came in from the cold. pic.twitter.com/agJsV6Kzb0

— Hugh Merwin (@hughmerwin) December 28, 2013
.@plattypants Big Reveal…for the 3
People in NYC who don't know what he looks like pic.twitter.com/OndY70UlNB

Love this idea. Bravo Platt!

— Andrew Zimmern (@andrewzimmern) December 28, 2013
@NYMag @grubstreet Didn't you guys already have Grumpy Cat only a few issues ago?

— Michael Idov (@michaelidov) December 28, 2013
Smile! RT @hughmerwin: New York magazine restaurant critic @plattypants is no longer anonymous. pic.twitter.com/BaZNQrAL0t

— Pete Wells (@pete_wells) December 28, 2013
Winning, Wells.
UPDATE: Oh no wait, Platt won the Twitter conversation after all.
Humbug … RT @h20gony: Cheer up! You have eaten a ton of really awesome (food). Best food critic in NY (at least as far as I'm concerned!)

— Adam Platt (@plattypants) December 28, 2013
[Twitter]
RELATED:
Rene Redzepi Invited a Food Writer to His Christmas Table Last Year, Anything You Do by Comparison Is Grinchy
'Critics Exposed' Blog Seeks To Become the V of Bad Yelpers and Unqualified 'Food Critics'
Torrisi Italian Specialties Unknowingly Turns Away Prominent Brit Critic
Have a tip we should know? tips@mediaite.com