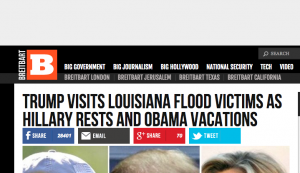 Breitbart has a reputation for being extremely right-wing. Some would even say it sows a few seeds of alt-right thinking, too. Nothing about today's news has helped their embattled rep, either, which is no good since Breitbart's Steve Bannon joined the Donald Trump campaign this week. Just today, there were reports that Bannon ran staff meetings like white supremacist rallies, that editor Milo Yiannopoulos kept the money he raised for a charity that doesn't seem to exist, and that one of their reporters tried to get former employee Michelle Fields canned from her new job at the Huffington Post.
Again, those headlines are just from today. Since Bannon became the CEO of the Trump campaign, he and the site he helmed have been getting attention from a lot of people who would normally never look their way. One of those people is the Guardian's Adam Gabbatt, who decided to read the site exclusively for 48 hours to see what all the hype was about.
As it turns out, the hype comes from within. Moreover, it serves a very specific purpose in catering to a readership that demands hype. Here's how he put it:
The first thing you notice when visiting Breitbart is its idiosyncratic presentation. Every headline is in capitals. It implies a sense of significance and dire urgency.

It screams at you. "THIS IS IMPORTANT," is the effect. "THIS IS OUTRAGEOUS." "THIS IS ANOTHER EXAMPLE OF THIS COUNTRY GOING TO HELL IN A HANDCART."

The last of those points is an example of how well Breitbart knows its audience.

This doomsday approach makes it seem like Breitbart readers want to feel that everything is rotten. They want to feel irate. They want to feel that disaster is impending – unless their guys can fix it.
In a sense, it is the print media version of the red "FOX NEWS ALERT" that appears at the bottom of even the most mundane segment on FNC. The heightened sense of urgency keeps consumers engaged and keeps them riled up enough to come back for more.
One of Gabbatt's most interesting findings was that the stories themselves were relatively benign. They were fact-based. It is the headlines and the selection of stories that would give an easy outlet for readers and commenters to dump on Democrats that leads to the "subtle" pushing of an agenda. Another observation: Photos of President Barack Obama used on stories about him might be of him golfing rather than him in the White House.
After 48 hours of reading only Breitbart, he concluded that it will make a reader feel like he world is terrible and that the Bannon-Trump alliance's output "will be cleverly packaged, well liked by Trump supporters and not very nice."
[image via screengrab]
Have a tip we should know? tips@mediaite.com