Activists Sound the Alarm After Priest Who Was Accused of Assault Is Given Position at Teen Pregnancy Center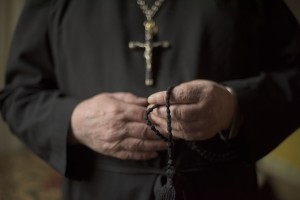 Sometimes, priests get in trouble for serious things, like railing coke on camera. Sometimes, they get in trouble for silly things, like riding hoverboards. The priest we are about to talk about got in trouble for something that falls into that "serious" category: He was dismissed from his position at two churches in 2009 when it was alleged that he had sexually abused a teenage girl in the 1970s.
According to the Detroit Free Press, church officials determined that Rev. Kenneth Kaucheck had acted inappropriately with the girl he was meant to be helping and they banned him from public ministry.
Now, though, he has been given a position as a director at the Gianna House Pregnancy and Parenting Residence. The Gianna House takes in young women and teenagers who are pregnant. It provides them with support and resources for themselves and any kids they may have.
Naturally, a number of people in Detroit and around the country are less than pleased that Kaucheck is being trusted with teenaged girls once again. The Archdiocese of Detroit and the Survivors Network of those Abused by Priests (SNAP) have both spoken out against his placement.
David Clohessy, the director of SNAP, released a statement that included the following:
It's inexcusable for any nonprofit to hire a credibly accused child molesting cleric. A simple Google search would have shown that Fr. Ken is potentially dangerous and should never be given any position or title that confers respect, much less gives him access to vulnerable people.
The Free Press reported that he took particular issue with how frequently he sees other Catholic officials allowing suspended priests to reemerge in the faith community in other rolls.
Gianna House's board chairman, Dr. Robert Welch, claimed to the Macomb Daily that he was unaware of Kaucheck's history. He said it was "shocking." Beyond that, no one at Gianna House would comment to the Free Press or even take a message.
[image via Shutterstock]
Go to Lindsey's Twitter or Facebook! Do it!
Have a tip we should know? tips@mediaite.com