A&E Cancels 'Escaping the KKK' Documentary Series Over Network Policy Violations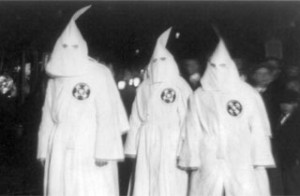 A&E announced on Saturday that they were axing the documentary series they had planned, which was going to be focused around the Ku Klux Klan.
The show, originally titled Generation KKK, was a lightning rod of controversy in recent weeks due to concerns that it would put white supremacists in a positive light. The show was eventually renamed Escaping the KKK in order to emphasize its focus on individuals trying to break away from the KKK and their participating family members.
A&E put out a statement today, explaining that they would not air their documentary after learning that "third-party producers" violated network policy by taking payments in order to access some of the participants.
"Our goal with this series has always been to expose and combat racism and hatred in all its forms," the statement says. "However, A&E learned last night from the third-party producers who made the documentary that cash payments — which we currently understand to be nominal — were made in the field to some participants in order to facilitate access."
A&E also said that they were in contact with the Anti-Defamation League and their various partners, in order to assure them that these payments didn't go to hate group members.
"A&E takes the authenticity of its documentary programming and the subject of racism, hatred and violence very seriously. Just because this particular show goes away, the issues of hate in America do not. We will still seek to fight hate in America through on-air programming including town halls and documentary programs produced in partnership with civil rights organizations, as well as continue to work with the civil rights community to facilitate a deeper dialogue on ending hate through comprehensive educational and outreach campaigns."
[Image via screengrab]
— —
>> Follow Ken Meyer (@KenMeyer91) on Twitter
Have a tip we should know? [email protected]