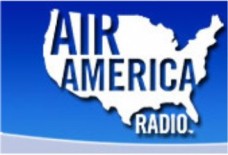 Wow. Liberal America is not having a good week. Here is the latest bad news. Air America, the left-leaning national radio station, which recently re-launched its website, is "ceasing its live programming operations as of this afternoon." The homepage of the website is running this announcement:
It is with the greatest regret, on behalf of our Board, that we must announce that Air America Media is ceasing its live programming operations as of this afternoon, and that the Company will file soon under Chapter 7 of the Bankruptcy Code to carry out an orderly winding-down of the business.

The very difficult economic environment has had a significant impact on Air America's business. This past year has seen a "perfect storm" in the media industry generally. National and local advertising revenues have fallen drastically, causing many media companies nationwide to fold or seek bankruptcy protection. From large to small, recent bankruptcies like Citadel Broadcasting and closures like that of the industry's long-time trade publication Radio and Records have signaled that these are very difficult and rapidly changing times.

Those companies that remain are facing audience fragmentation as a result of new media technologies, are often saddled with crushing debt, and have generally found it difficult to obtain operating or investment capital from traditional sources of funding. In this climate, our painstaking search for new investors has come close several times right up into this week, but ultimately fell short of success.
You can read the full announcement here. Judging from Air America host Ana Marie Cox's Twitter the announcement may have also been a surprise to the staff. It should be noted this is not the first time the company has been forced to file for bankruptcy. They did so back in 2006 before being bought by New York real estate investor Stephen Green and his brother Mark Green.
Have a tip we should know? tips@mediaite.com