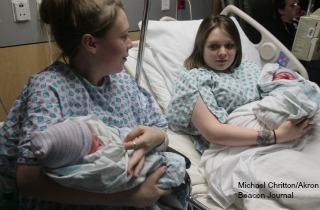 Donavyn Scott Bratten and Aiden Lee Alin Dilts might not be New Year's Day babies, but they're still pretty special nonetheless. Their mothers are identical twins and gave birth on the same day at Summa Akron City Hospital in Ohio.
Donavyn is the older of the two, having been born just after noon on Monday. He weighed 7 pounds, 2 1/2 ounces and measured 21 inches long. His mom is Aimee Nelson and proud dad is Matthew Bratton.
Aiden was born just two hours later, around 2 PM monday. He weighed 8 pounds, 12 ounces and measured 22 1/2 inches long. His mom Ashlee Nelson is Aimee's sister, and dad is Cody Dilts.
Their grandmother, Marcella Farson, said the babies already had belated Christmas presents waiting for them under the tree. Looking forward to their arrival, she said, made the holiday extra special.
"They got little outfits, snowsuits, rattles, little toys, and they got their first Hot Wheels cars," she said. "They weren't even here yet and they got their first gifts from Santa."
The same-day birth wasn't planned and came as a surprise: the new moms' due dates were about a week apart.
Farson told the Akron Beacon Journal that though she had never forced the girls to dress alike or do the same things, it always happened naturally.
"When they got to their individuality stage, I allowed them to do what they wanted — and they did for the most part. But the funny part is that nine times out of 10, one would come home with one thing purple and the other one would do the same thing but pink."
Looks like that carried over to having babies!
—
>> Follow Anjali Sareen (@AnjaliSareen) On Twitter
Have a tip we should know? tips@mediaite.com