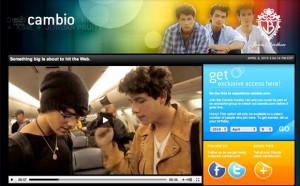 In recent years, AOL has faced some hard times. Ever since its merger with Time Warner Cable in 2001 (and its subsequent separation 8 years later), AOL has seen drastic reductions in company value and number of subscribers. But tomorrow, AOL will attempt to reassert itself in the online world with the launch of its new video project, Cambio, which we have to say looks pretty darn cool.
Capitalizing on the power of new media sites like YouTube, Cambio (which means "change" in Spanish, a central theme for the transitioning AOL) is a joint venture between AOL, The Jonas Group and MGX Lab. The site will feature short "webisodes" of exclusive material, non-scripted reality programming, and lots of artist-generated content. Ultimately, it's meant to look something like an online MTV where artists and other celebrities can interact more directly with their audiences rather than through traditional radio or TV outlets. The New York Times explains the reasoning behind Cambio's structure:
YouTube, where many celebrities maintain their own channels of videos, was a rough draft. In some cases, Mr. Jonas [father of the famed Jonas Brothers] said, the fan loyalty derived from online efforts greatly surpasses the attention earned through traditional media appearances, at a fraction of the cost.
So for those of us with internet age attention spans (i.e. none whatsoever) and no cable at home (ah, college budgets), Cambio might just be the new media alternative for getting our music and video fixes all in one place.
Check out their promotional video below:
Have a tip we should know? tips@mediaite.com