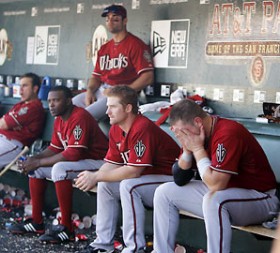 The Arizona Diamondbacks are expected to be protested outside of Wrigley Field today when they take on the Chicago Cubs.
The protest is in opposition to Arizona's new immigration laws, and this demonstration won't be the only one the team encounters.
According to the Arizona Republic, protests are expected outside of every stadium the Diamondbacks play in for the foreseeable future. Their report comes after calls for Major League Baseball to move next year's All-Star Game, scheduled to be played in Phoenix, to a new city.
Some of the demonstrations are being organized by a group called "Boycott Arizona 2010," and the group's Arizona representative, Tony Herrera, alleges ties between the Diamondbacks and the Republican Party:
"The owner, Mr. (Ken) Kendrick, is a big supporter of Republican politics. This new law was a Republican bill. Until the law is changed, there should be protests."
Although Ken Kendrick is a well-known contributor to Republicans, the team maintains that he personally opposes the law. Here's the statement they forwarded to the Republic:
"Although D-backs' Managing General Partner Ken Kendrick has donated to Republican political candidates in the past, the organization has communicated to Boycott Arizona 2010 leader Tony Herrera that Kendrick personally opposes (Senate) Bill 1070.

[…]

The D-backs have never supported (Senate) Bill 1070, nor has the team ever taken a political stance or position on any legislation."
While sports franchises generally abstain from taking any sort of political stance, the D'Backs have been put in a tight spot by Herrera. They had to speak out against the bill, or risk disillusioning their Latino fans (of which there are many) and their Latino players (of which there are also many).
Now they publicly stand against the bill, but will still be protested because of it. Welcome to the world of Professional Sports Team As Political Lightning Rod.
Have a tip we should know? tips@mediaite.com