Arizona Sheriff Joe Arpaio Creates Website To Allow Citizens To Vote On 'Mugshot Of The Day'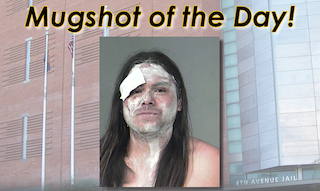 Joe Arpaio, the Arizona lawman who calls himself "America's Toughest Sheriff," has come up with a new way to fight crime. His previous attempts, of course, included having a prison Christmas caroling contest, debating Carlos Mencia, talking up a campaign for Governor, and letting Steven Seagal attack cockfighters with a tank. This time, he's added a feature to the Maricopa County Sheriff's Office website that allows users to vote for the "Mugshot of the Day." This idea has singlehandedly solved Arizona's immigration problem.
Oh, I'm sorry. Did I say "immigration problem?" I meant "No one on TV is talking about Joe Arpaio problem."
The Blaze has the report:
"Maricopa County Sheriff Joe Arpaio allows online users to browse through the photos and then vote on their favorites that will be highlighted on a 'Mugshot of the Day' section.

The top picks so far aren't unexpected: They're the most disheveled, unusual looking people among those booked into an Arizona jail.

Arpaio says he hopes the increased Web traffic will highlight the work of his employees."
Of course, this isn't too out of the ordinary. Using the fear of public ridicule to stave off crime is a tactic that's been around since the days of the stocks. Hooray for updating it for the Twitter generation!
In fact, totally off topic, but this reminds me of an awesome idea I had to save out country's law enforcement agencies money. Clearly, people like mugshots. Arpaio has proven this. But, you know who also loves mugshots? The people in them. What dumb college student thrown in the drunk tank wouldn't want to throw his hilarious mugshot up on Facebook the next day? None of them, that's who! That's why you start selling nice prints of them on the way out of the station. Just mark them up and sell them like the photos after a roller coaster. Money in the bank!
See? Arpaio, you can feel free to use that.
(h/t The Blaze)
Have a tip we should know? tips@mediaite.com