Where's the New Hoodie Chipped Ice Cream to Go With Ben & Jerry's Black Lives Matter Statement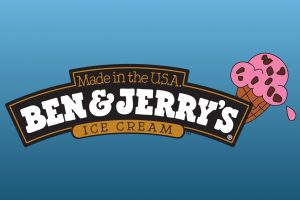 Ben & Jerry's announced a new ice cream flavor called 'Black Lives Matter.' It's chocolate and vanilla swirl, laced with hashtags, hypocrisy and shredded hoodie bits. Psyche! Just kidding! But the Vermont dairy potentates may as well have launched a new ice cream flavor to go a la mode with the company's Black Lives Matter statement.
A lengthy post on the company's website begins by stating, "Black lives matter." Well duh, so does every other type of life: kids, adults, gays, police. If you're a Christian, like I am, we believe that all creatures great and small matter in God's eyes.
The B & J's screed adds that a "systemic and institutionalized racism are the defining civil rights and social justice issues of our time," even though the country elected its first black president to two terms.
Getting to the heart of the matter, Ben & Jerry's declares:
"It's been hard to watch the list of unarmed Black Americans killed by law enforcement officers grow longer and longer. We understand that numerous Black Americans and white Americans have profoundly different experiences and outcomes with law enforcement and the criminal justice system. That's why it's become clear to us at Ben & Jerry's that we have a moral obligation to take a stand now for justice and for Black lives."
(The list is nothing more than that, incidentally. Each shooting has its own unique set of circumstances — with little other than the outcome in common.)
That's a lot of lies to unpack. The liberal activists posing as ice cream makers fail to mention that the black body count in predominately black cities like Chicago and Baltimore grows and has been for years. And it's armed black men who are doing the killing — not cops. Those lists are 100 times longer than the list Ben & Jerry are merchandising. There are some bad cops, killing innocent black men. It's not the norm.
The reason why black and white Americans have different experiences with law enforcement is that more blacks are irresponsibly having babies out of wedlock (at a rate of nearly 75%) and expecting the government to raise their kids. This is a recipe for ensuring mass incarceration of black men. Ben & Jerry are right. Our criminal justice system isn't colorblind; it's being bombarded by black lives but not because of a racist system.
Without parents to turn to, young black men turn to guns, crime and collide with police officers. That is why blacks represent a mere 13% of the population and over 50% of the prison population.
"All lives do matter. But all lives will not matter until Black lives matter," the company concludes.
What an immoral thing to say! I don't remember Ben or Jerry getting worked up and talking about dignity and justice when Kate Steinle, Jamiel Shaw II, Grant Ronnebeck, and Josh Wilkerson were violently killed by criminal illegal aliens.
On November 16, 2010 in Houston, Texas, Josh was killed by a classmate and illegal alien Hermilio Moralez. After school, Josh gave Moralez a ride home. Moralez robbed Josh for $2, beat him to death then doused him with gas and set him on fire. Police discovered his charred body with a stick of gum and a school tardy slip.
"Were it not for Democrat-governed sanctuary cities' giving refuge to illegal aliens,' [these young people] and many other Americans would be alive today," I wrote in my book Con Job: How Democrats Gave Us Crime, Sanctuary Cities, Abortion Profiteering, and Racial Division.
Josh's life mattered too, but liberals have decided this type of carnage is okay. After all, as Ben & Jerry's made plain and vanilla–only black lives matter. What a crock of political propaganda disguised as a scoop of humanity.
— —
Crystal Wright is author of the newly released book Con Job: How Democrats Gave Us Crime, Sanctuary Cities, Abortion Profiteering, and Racial Division. By day, Crystal is a communications consultant and editor and publisher of the blog Conservative Black Chick.
Follow Crystal Wright @GOPBlackChick on Twitter
— —
This is an opinion piece. The views expressed in this article are those of just the author.
This is an opinion piece. The views expressed in this article are those of just the author.