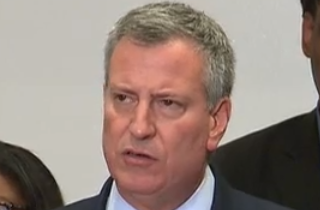 Hours after New York Assembly Speaker Sheldon Silver was indicted on corruption charges, New York City Mayor Bill de Blasio told a group of reporters that he would wait to see how the trial would play out, but that he still admired Silver.
"Although the charges announced today are certainly very serious, I want to note that I've always known Shelly Silver to be a man of integrity, and he certainly has due rights and I think that we should let the process play out here," he told a scrum of reporters, according to the New York Observer.
Silver was hit with a surprise indictment this morning from US Attorney Preet Bharara, who charged him with five counts of wire fraud, mail fraud, conspiracy, and extortion. The 35-page complaint, alleging that he received millions in "kickbacks" by referring real estate investors to law firms, stunned New York's political community.
"Allegations are allegations, charges are charges, and there has to be a process to determine the outcome," de Blasio, who Silver sided during funding battles with Albany, said. "I think, separately, it's a true statement that he's done a lot for New York City and I value that, certainly."
Mayor de Blasio also drew a line between his calls for due process, and his previous calls for Rep. Michael Grimm (R-NY) to resign from Congress immediately after he was indicted for corruption back in 2014. (Grimm eventually stepped down last month after he pled guilty to the charges.)
"I think in Michael Grimm's case, we saw a pattern of questionable practices over a long period of time. And I think in my experience with Shelly Silver, I've seen integrity and public service," de Blasio said.
[New York Observer]
[Image via screenshot]
—
>> Follow Tina Nguyen (@Tina_Nguyen) on Twitter
Have a tip we should know? tips@mediaite.com