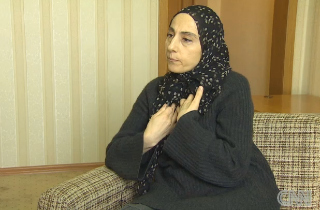 In an emotional posting on social media, Zubeidat Tsarnaev, the mother of convicted terrorist Dzhokhar Tsarnaev, angrily said that her son was innocent and that America would be punished for imprisoning him.
Despite the fact that her son confessed to plotting and carrying out the Boston Marathon bombings in 2012 along with his brother Tamerlan, Tsarnaev, who currently lives in Dagestan, insisted that her sons were being preyed upon by America for protecting Muslims throughout the world. (She's claimed that her sons were set up ever since the bombing occurred.)
"May god bless those who helped my son," she wrote to a support group on the Russian social media VKontakte, according to Vocativ. "The terrorists are the Americans and everyone knows it. My son is the best of the best."
Vocativ then asked her to confirm her identity, which she did — and sent them a long message:
HOW CAN A MOTHER FEEL WHOSE SON IS IN THE CLAWS OF A PREDATOR PREPARING TO TEAR HIM TO PIECES LIKE MEAT ??? ((((((((( BUT THERE IS AN ABUNDANCE OF SUCH MOTHERS, WHO BURY THEIR BEST SONS IN THE GROUND WHO ARE TORMENTED BY PREDATORS, LIKE BRAVE YOUNG EAGLES SOARING THROUGH THE OPEN SKY, LIMITLESS, AND WHO IN ONE MOMENT AND IN ONE INSTANT END UP IN THE CLAWS OF BLOODTHIRSTY AND RAVENOUS BEASTS, WHOM THEY FEED TO THEIR EMPTY AND TERRIFYING BELLY! (((

I'M TALKING ABOUT THE SONS OF ISLAM, AND NOT ONLY THE SONS BUT ALL PEOPLE ADHERING TO THIS RELIGION, WHOM THEY ANNIHILATE, AS IF THEY WERE NOXIOUS INSECTS OR ESPECIALLY DANGEROUS BEASTS, AROUND THE WORLD! ((((((( SOME PEOPLE, OR SHALL WE SAY, MANY PEOPLE, DON'T CARE ABOUT THIS AND THEY SLEEP KNOWING AND SEEING THIS AND CAN PEACEFULLY LIVE, EVEN GOING THROUGH THEIR DAILY GRIND, AS LONG AS IT DOESN'T CONCERN THEM! ;(;(;;

BUT MY SONS WERE NOT PART OF THE NUMBER OF SUCH UNEMOTIONAL AND BRAINLESS ANIMALS AND THE PAIN OF THE MOTHERS AND FATHERS, SONS AND DAUGHTERS OF ISLAM TORMENTED THEM, DAY AND NIGHT, UP TO THIS DAY THEY HAVE RECOGNIZED WHO IS KILLED AROUND THE WORLD, FOR NOTHING! ((((((((((

THAT ISRAEL, THAT THE GOVERNMENT OF AMERICA, ARE IN EQUAL PROPORTIONS! (((((((((((( SO FOR WHAT DID MY RELATIVES AND LOVED ONES PAY A PRICE!;(;(;(;(;(
Dzhokhar Tsarnaev, who executed the Marathon bombings with his brother, was found guilty of 30 counts of murder, conspiracy, and deadly use of a weapon of mass destruction. His sentencing is scheduled for this week, and the focus now turns to whether he will be executed or serve life in prison.
[h/t New York Post]
[Image via screenshot/CNN]
—
>> Follow Tina Nguyen (@Tina_Nguyen) on Twitter
Have a tip we should know? tips@mediaite.com